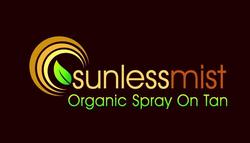 Birmingham, MI (Vocus) October 27, 2010
Sunless Mist, the creators of the Sunless Mist organic spray tan booth, has also given sample bottles to celebrities such as Bethenny Frankel, from the TV show "Bethanny", who wrote a heartfelt hand written thank you note to the company. Sunless Mist plans to offer the organic spray tan to other celebrities such as the "Jersey Shore" cast, as well as many others.
One of the special components to the Sunless Mist organic spray tan is a vitamin mixture called "Firmaderm", which is anti-aging and helps reduce wrinkles. "Firmaderm" moisturizes the skin, and begins bringing out the persons natural tan within approximately 4 hours from application. Unlike other sunless tanning products on the market, Sunless Mist does not turn the person orange because it stimulates the specific tanning pigment makers in each users skin achieving the natural glow they normally attain.
Sunless Mist organic spray on tan does not streak because it is applied as a wet application and therefore any missed spots may simply be blended by rubbing in more Sunless Mist. The result is always a natural deep tropical tan. Sunless Mist leaves the skin leaving looking and feeling luscious and healthy. Sunless Mist has a very popular chocolate-cherry aroma that leaves the customer's skin glowing and nourished.
Getting in and out of a Sunless Mist organic spray tan booth is easy and quick. After a customer receives the organic spray tan, the skin is left feeling soft and smooth, unlike other spray tan booths that leave the skin sticky and tacky. This means Sunless Mist customers can receive the spray tan before work, during work, or anytime at all, without the worry of feeling uncomfortable after the tanning session ends.
Sunless Mist is looking to partner with distributors and sales representatives across the world to represent the bottled brand, as well as the innovative spray tan capsules.
Sunless Mist will mail complimentary packages containing the organic spray tan upon request.
# # #