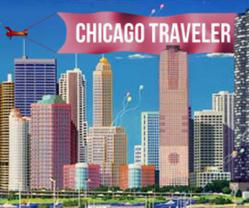 Chicago, Illinois (PRWEB) April 05, 2013
This winter in Chicago has been long and grueling, but Spring is officially here- much to the relief of Chicagoans and tourists alike. Take advantage of the warmer weather and take an in-depth look at the Windy City on one of the fabulous Chicago tours. The sheer amount of tours being offered in Chicago can be overwhelming, and Chicago tour deals that make them even more alluring, but Chicagotraveler.com has done the hard part by narrowing down the best tours being offered in Chicago for Spring 2013.
Chicago Boat Tours
Boat tours are a wonderful way to soak up the Spring sunshine while setting out on a great cruise around Chicago's waterways. Tall Ship Adventures of Chicago provide a unique twist on the traditional Chicago boat tour. These Chicago cruises take place on a historic tall ship schooner, and cover some fascinating material. They discuss the pirates that once dominated the Great Lakes, and the rum runners and smugglers who controlled the city during the Prohibition era, along with other tours. Anyone looking for a fun way to see the Chicago skyline all lit up at nighttime should take part in one of the night cruises running on Wednesday and Sunday nights when the Navy Pier has its fantastic firework show. These Chicago boat tours will be up and running starting in May. Many of the other boat tours in Chicago have already begun though, so find the best boat tour in Chicago for every traveler.
Chicago Food Tours
Chicago is one of the culinary capitals of the world, so why should visitors to the city limit themselves by checking out a couple of restaurants when they can get a well-rounded food experience on a great Chicago food tour. Rated the #1 food tour in Chicago, Tastebud Tours are one of the most popular things to do in Chicago every season, and their Flavors of Chicago tour fits in all of the must-have Chicago dishes into a three hour time frame that is pure heaven for foodies. Sample some tasty deep-dish pizza, Chicago style hot-dogs and more on this five-stop Windy City tour. For anyone needing to satisfy a sweet tooth, the Sweet Chicago tour is ideal; chow down on delectable cakes, chocolates, sweets and more on this Tastebud Tour. These tours are not just about the food though.
Chicago Food Planet Tours are another wonderful option to discover the Windy City's most mouthwatering and historic neighborhoods. Come hungry to this Chicago food tour as guests will have the opportunity to taste a variety of different foods. Chicago Food Planet Tours offers a Near North Food Tour, which is comprised of all of the culinary hotspots in the Gold Coast and Old Town areas. Chicago has a vibrant Asian community, so it makes sense that they also do a Chinatown Tour, which is perfect for anyone craving some delicious Asian cuisine, as they will get to eat to their heart's content at five Chinese restaurants. There are other neighborhoods waiting to be explored via the Chicago Food Planet tours as well. On every tour, your group will walk through Chicago's best neighborhoods, past some of the most famous Chicago attractions, so bring a camera and get some pictures to take home so the memories will live on forever.
Chicago Bike Tours
Now that the dreariest days of intense Chicago winter weather are in the past, witness the city transition into Spring via a Chicago bike tour. Bobby's Bike Hike Chicago tours are a smart and exhilarating way to see the city, as they cover a lot of territory while still allowing participants to be up close to all of the Chicago attractions and sights. The Chicago Lakefront Neighborhood Bike Tour avoids the usual touristy areas, and instead focuses on the gorgeous neighborhoods that surround the Windy City, and the accompanying beaches and city parks. Gawk at the Gold Coast Mansions and Oprah's House, and snap some photos at the beautiful Chicago Lakefront.
The City Lights at Night Bike Tour is another one of Bobby's Bike Hike tours that is a big draw, as guests get to discover the cosmopolitan mecca at night when it's all lit-up and at its (arguably) most beautiful. Cruise through such exciting Chicago attractions as Millennium Park, Museum Campus and even Buckingham Fountain, which puts on a famous light show. Another great incentive to go on one of these Chicago bike tours is that visitors can get 10% off when they book online.
There are so many reasons to visit Chicago this spring, from the warming temperatures to all of the upcoming Chicago events like holidays, sports games and concerts. Every vacation should include one of these tours, to round out a perfection vacation. Check out all the current Chicago hotel deals to make a trip here even better.
About ChicagoTraveler.com:
Chicago is one of the top vacation destinations in America famous for their annual events, popular foods, architecture and top sports teams. ChicagoTraveler.com guides travelers to all the best things to do, top places to eat and deals on the best places in Chicago to stay. This article was written by Lizz Riggs, editor of ChicagoTraveler.com.