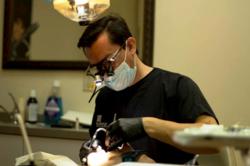 Since starting in practice in Spring Branch in 2010, we have invested heavily to provide the best dental technology so that individuals can get top dental care...
Spring Branch, TX (PRWEB) June 27, 2012
Spring Branch Dental Care is for the first time offering new patients a free dental cleaning with their initial examination. This incredible offer will save patients and their families up to several hundred dollars in fees as well as provide them some of the best dental care in the area.
"Since starting in practice in Spring Branch in 2010, we have invested heavily to provide the best dental technology so that individuals can get top dental care right here in the Spring Branch area. They don't have to fight the traffic to go into San Antonio," stated Dr. Jairo Chavez. "We want people in Spring Branch, Boerne, Blanco, New Braunfels, Bulverde, North San Antonio including Timberwood Park and Canyon Lake to come in and find out what we can do for them. So we are making this special limited-time offer for new patients."
New Patient Special:
Spring Branch Dental Care will provide a $99 New Patient Special for an adult examination which includes regular cleaning (excludes periodontal (gum) disease). For children, the examination and cleaning will be provided for $75.
Dr. Chavez has years of extended and advanced dental training and expertise in a range of state-of-the-art technology in soft tissue laser, dental implants, orthodontics/ Invisalign, endodontics (Root Canal Treatment), dental surgery, computerized dentistry, same-day crowns, full mouth reconstruction and many other procedures including first quality dentures.
The Best Dental Technology:
Spring Branch Dental Care uses some of the most-cutting edge technologies:
(1) Digital X-rays: This technology use 80% less radioactivity and speeds dental diagnostics because they do not require developing with chemicals.
(2) Whitening Systems: Zoom 2 Whitening - A powerful whitening process that removes stains and discolorations and can whiten teeth several shades in one office visit.
(3) The Wand: A computerized anaesthetic delivery system that increases patient comfort by numbing only necessary areas using a smaller dose of anaesthetic.
(4) DIAGNO-dent: Fluorescent laser technology that can find almost invisible areas of tooth decay.
(5) Hydro-abrasion: A combination of air, water, and micro-abrasive particles that safely and comfortably removes dental hard tissue and decay.
(6) I-Tero: A special hand-held wand takes a digital 3D image of prepared teeth for the making of dentures and other dental appliances. This saves patients from enduring a tray full of putty hardening in their mouths. The digital image is sent to the lab where a computer creates an accurate replica of the mouth. This is now done for Invisalign and Spring Branch Dental Care is the only office in the area to provide this service.
(7) Diode laser technology: For use in working with soft tissues, such as gum re-shaping and also GUM disease treatment.
(8) CEREC: The world's leading system for milling all-ceramic dental restorations in just one office visit. The CEREC system can allow patients to be in and out in a single visit with a permanent, all-ceramic crown, inlay or onlay. This means fewer injections, less drilling, and fewer appointments.
(9) Intraoral Camera: Every chair is equipped with an intraoral camera that allows patients see exactly what the doctor sees.
About Spring Branch Dental Care:
Dr. Jairo Chavez is a member of the Academy of General Dentistry, the American College of Oral Implantologists, a Fellow of the International Congress of Oral Implantologists and founding member of the Gran San Antonio Hispanic Dental Association. His all-new, highly trained friendly dentistry team aim to provide dental patients with high-quality, affordable dentistry and cosmetic dentistry care.
Spring Branch Dental Care
20475 Hwy 46 W Suite 310
Spring Branch, Texas 78070
Telephone (830) 438-7444