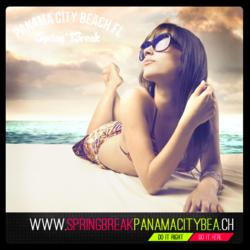 With this strategy, our intention is to create excitement and hype sooner, all while offering increased value to our guests. It's a win-win for everyone.
Panama City Beach, FL (PRWEB) October 30, 2012
In addition to paying a significantly reduced rate by booking this early, the Sandpiper Beacon, a beachfront hotel and Tiki Bar specializing in providing an exciting Spring Break experience, is also sending guests a "Panama City Beach Spring Break 2013 Party Package". The Spring Break party packages contain items designed to get college and high school students in a beach vacation / spring break frame of mind, including items such as T-Shirts, Coozies, Mardi Gras beads and Leis.
"The strategy is to generate early excitement for the Panama City Fl Spring Break 2013 experience, and encourage those making their reservations early to tell all their friends about Panama City Beach, where they are staying, as well as what a great deal they got" said Patrick Hazard, General Manager of the Sandpiper Beacon Beach Resort. According to Nielsen's latest Global trust in Advertising report, which surveyed more than 28,000 people, 92 percent of consumers say they trust recommendations from friends and family above all other forms of advertising.
The Sandpiper Beacon actively engages in traditional forms of advertising in both print and online. Yet the Hotel, which is one of the few in Panama City Beach to offer Spring Break rentals to Under 25s, places significant emphasis on positive word of mouth recommendations. "Year round, much of our business comes from repeat guests, or friends/family of those guests." Says Hazard. "We take great pride in this fact. A return visit, or booking from new guests based on the recommendations of others, is the greatest measure that guests are having a good time and that we are doing things right."
Typically, the majority of Spring Breakers begin making plans shortly after the Thanksgiving break. Booking inquiries intensify immediately after Christmas, and interest continues to grow leading all the way in to March. Hazard pointed out; "With this strategy, our intention is to create excitement and hype sooner, all while offering increased value to our guests. It's a win-win for everyone".
This marketing strategy is being implemented alongside a limited number of early booking discounts. The early booking discount offers rooms starting at $833 for up to four people for the entire week. That breaks down to less than $210 per person (before tax) for a famous Spring Break Panama City Beach experience on the World's Most Beautiful Beaches, in a destination known as the "Spring Break Capital of the World".
About Panama City Beach
Panama City Beach is situated on 27 miles of sugar-white sand beaches bordering clear, emerald-green waters where the Gulf of Mexico and St. Andrew Bay converge. With more than 300 days of sunshine annually and attractions such as St. Andrews State Park and Pier Park, the region has long been favored by College students seeking a once in a lifetime Spring Break experience and beach vacation. Panama City Beach recently opened the new Northwest Florida Beaches International Airport, offering non-stop flights on Delta Airlines and Southwest Airlines.
About the Sandpiper Beacon Beach Resort
The Sandpiper Beacon Beach Resort is a beachfront Hotel and Resort in Panama City Beach, Florida. Known as the "Spring Break Fun Place", the Sandpiper is committed to value; daily contests, games. activities, amenities, and so much entertainment, that Spring Breakers never have to leave during their vacation. For more information, call 800-488-8828 or visit http://www.sandpiperbeacon.com.