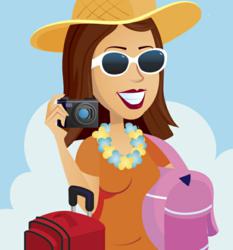 (PRWEB) January 23, 2013
With so many spring break family vacation destinations to choose from, it's difficult to find the right spot, but the experts at Family Travel Magazine are here to help. There's still plenty of time to book a vacation to any of the top spring break destinations and CheapOair is offering discounted rates on trips to select destinations.
1) Puerto Rico
Guests won't need a passport to travel to Puerto Rico, yet it'll feel like a world away. April is a great time to visit, because it falls in between the winter busy season and the rainy season.
2)Grand Cayman
Family Travel Magazine covered the Caymans in detail last summer, and it's a spring break pick due to its beautiful location and family-friendly attractions.
3)Turks and Caicos
Turks and Caicos is a 75 minute flight from Miami, making it a relatively short trip for a Caribbean destination. There are also numerous family-friendly resorts in the area.
4) San Antonio
San Antonio, Texas is a great family travel destination, with lots of things to do with kids like Sea World San Antonio, Six Flags Fiesta Texas, and the San Antonio Botanical Garden.
5) Florida - Fort Myers or Orlando
Of course, Orlando is one of the most popular family vacation spring break destinations, and right now, Walt Disney World is offering some great deals for travel in the spring. While visitors are there, they can enjoy other great things to do in Orlando – like Sea World Orlando and Universal. Or, for a more relaxing beach vacation, Fort Myers may be a better destination. Consider Captiva or Sanibel Islands which are both relaxing and fun.
6) San Diego/Orange County
San Diego or Orange County are great options for guests are looking for a relaxing beach vacation combined with some family activities. Attractions like the San Diego Zoo, Disneyland, and Legoland are just a short drive away.
7) Azores
The Azores, the closest and one of the most affordable European destinations, is a temperate 65-70 degrees in April. With family activities like whale watching, hiking, biking, gardens, forts, and museums, families will find plenty of things to do. SATA airlines is offering packages to 29 different hotels on six islands.
8) Portugal
The lone European destination on this list is Portugal – a wonderful place to bring a family to experience European culture. Family Travel Magazine's hotel pick is The Yeatman in Porto which is offering a fabulous spring deal which includes a morning breakfast buffet, complimentary lodging for children, and a wine picnic (among other things).
9) Family Cruise
Number 9 on the list isn't exactly a destination, but families who are looking to visit several Caribbean destinations should consider a cruise.
For families with spring break destinations still up in the air, these top picks are destinations loaded with family fun activities and are all geographically beautiful, and highly recommended by Family Travel Magazine. To see the travel deals offered through CheapOair, visit their promotions page.
About Family Travel Magazine: Passionate about promoting family vacations that help a family bond, Family Travel Magazine ( http://www.familytravelmagazine.com) helps families decide where to go on vacation with kids. They also review hotels, destinations and attractions and reveal special deals and promotions at hotels across the U.S, the Caribbean, and Europe. Because mom and dad sometimes need to get away alone, the magazine also features destinations for parents only. Jodi Grundig, mom of two with an MBA and ten years experience in corporate finance, is a sought-after brand ambassador, travel writer, mom blogger (since 2007) and brand consultant. An avid traveler and travel blogger, Jodi has written about some of the best family hotspots, including Hawaii, Arizona, Virginia, Florida, and the Cayman Islands. Jodi is a member of NATJA (North American Travel Journalists Association), and has served three years on the popular Walt Disney World Moms Panel.