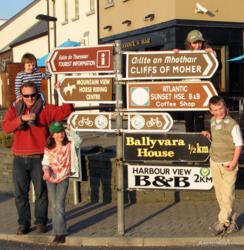 From sandy beaches off the beaten path to ski resorts offering seasonal deals, lesser-known destinations across the globe offer tranquility, affordability, and new perspective.
San Francisco, CA (PRWEB) February 04, 2013
Popular spring break destinations book up fast and attract crowds, but families willing to think outside the family vacation box still have plenty of time to plan that perfect spring break trip. From sandy beaches off the beaten path to ski resorts offering seasonal deals, lesser-known destinations across the globe offer tranquility, affordability, and new perspective. "Domestic and international destinations are making family-friendly amenities a priority now more than ever," says Amy Whitley, founder of Pit Stops for Kids. "Family travel experts can help families find destinations they may not have considered otherwise."
Family travel experts reveal often-overlooked U.S. and international family spring break destinations:
Wildlife Exploration in Belize
Costa Rica has attracted all the Central America attention over the past few years while, Belize has similar adventures to offer families from nature reserves filled with wildlife to renown snorkeling and diving. For a country only 180 miles long, family-friendly hotels and resort options in Belize are numerous and range from simple seaside rooms to luxurious jungle lodges.
Recommended by Amie O'Shaughnessy of Ciaobambino.com.
Outdoor Adventure at Death Valley National Park
An easy drive from Las Vegas, family-friendly hiking abounds amid wildflower blooms, sunny skies, and warm temperatures in Death Valley National Park. Spring is peak season in Death Valley, but visitors will hardly know it: families can spread out in this vast park to experience sand dunes, hot spring-fed pools, and canyons. Stay at the Furnace Creek Ranch for golf and swimming in-between hikes.
Recommended by Amy Whitley of PitStopsforKids.com.
Sunshine in Pacific Mexico
Hit a beach resort at Puerto Vallarta or Mazatlan or start in Guadalajara first for a taste of colorful, vibrant, working Mexico. Be serenaded by the mariachis in Tlaquepaque or go shopping in Tonala. A visit to the town of Tequila to learn about harvesting blue agave and the distilling process is educational for everyone. Cross the dry lake beds of Laguna San Marco for an in-motion geography class focusing on monster dust devils and shimmering mirages.
Recommended by Michelle Duffy of WanderMom.com.
Sunny Days in Carlsbad
San Diego and Los Angeles are both very popular spring break destinations, but Carlsbad is relatively overlooked. The first LEGOLAND in North America is found in Carlsbad, and the entire family will love the beach. The west coast's largest indoor go-kart race track, KI Speed, is located in Carlsbad, as well as Leo Carrillo Ranch Historic Park and Sea Life Aquarium.
Recommended by Jennifer Miner of TheVacationGals.com.
Cowboy fun in San Antonio and Texas Hill Country
Texas Hill Country is at its best during the spring when billions of bluebonnets blanket the landscape and the weather begs visitors to spend time outdoors. Whether families are hiking up Enchanted Rock, touring Natural Bridge Caverns, strolling San Antonio's famous River Walk, or visiting Bandera, the "cowboy capital of the world", they are sure to find Texas Hill Country to be Texas at its best.
Recommended by Sharlene Earnshaw of Trekaroo.com.
Spring temperatures in Sarasota
There's always a circus in town in Sarasota, Florida. Circus Sarasota offers a full schedule during the high season (through April) and the miniature circus with its 42,000 objects on display at the Ringling Museum is not to be missed. Kids and parents will love the white sand beaches of Sarasota Florida, and for after sun fun, the Fab Lab in the GWIZ Museum, the Seahorse Conservation Lab at Mote Aquarium, and Big Cat Habitat for homeless large animals are not to be missed.
Recommended by Kim Orlando of TravelingMom.com.
Kid-friendly Culture in Windsor, England
When London's museums and attractions fill with tourists around the Easter holidays, why not head west? Windsor is just minutes from Heathrow Airport and boasts the kid-friendly attractions of Windsor Castle and LEGOLAND. Or head for the charming town of Oxford,where the famous university is closed from the beginning of March through mid April, permitting families to stay in one of the dormitories, tour the colleges, visit Alice's dodo at the Oxford Museum of Natural History, and stroll along the River Cherwell in peace.
Recommended by Mara Gorman of TheMotherofAllTrips.com.
Beach Fun with an Historic Touch in St. Augustine, Florida
Just two hours north of Orlando, St. Augustine offers plenty of white sandy beaches as well as a wealth of history that one can expect from the oldest city in America. Take a break from theme parks and hop on the trolley for a relaxing tour around the city with stops at museums, historic buildings and, of course, the famous Castillo de San Marcos. Nearby Crescent Beach remains one of the most unspoiled and uncrowded beaches in Florida, perfect for biking, fishing and beachcombing.
Recommended by Erin Gifford of Kidventurous.com.
City and Outdoor Thrills in Chattanooga
Base an adventurous Chattanooga vacation out of the Chattanoogan Hotel and head out on foot or take the free electric shuttle. Visit the award winning Tennessee Aquarium, Creative Discovery Museum, or just take a walk over Walnut Street Bridge and ride the carousel in Coolidge Park. For thrill seekers of all ages, soar above the mountains with Lookout Mountain Hang Gliding or go deep underground on a Wild Cave Tour out of Cloudland Canyon State Park.
Recommended by Sue Rodman of FieldTripsWithSue.com.
Volcanoes and Black Sand on Hawaii
Kona gets all the press, but the east side of the Big Island of Hawaii by Hilo is worth more than a day trip. Plus, prices are lower as more locals reside there. Families can see Volcanoes National Park before the day trippers arrive, glimpse greet sea turtles on black sand beaches, jump into hot spring-fed swimming holes, and dive into delicious local produce. Hawaii's largest island will keep kids moving, tasting, and experiencing more than families might think possible on a beach vacation.
Recommended by Keryn Means of WalkingOnTravels.com.
Celebrate All Things Irish at The Gathering 2013 in Ireland
Ireland is throwing a massive party in 2013 called "The Gathering". This means anyone of Irish decent (or those who just aspire to be) are encouraged to come on over with their families and celebrate what it is to be Irish. Given the unpredictability of the weather at any time of the year, spring break is as good a time as any to make the pilgrimage. And with all the special events planned throughout the year, including glitzy fireworks and blockbuster festivals, this could be the best chance to take the kids and beat the crowds ... and save on airfare.
Recommended by Rainer Jenss of SmartFamilyTravel.com.