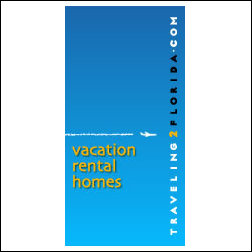 It's not just college students who get excited about Spring Break
Orlando, FL (PRWEB) April 3, 2007
Traveling2florida.com, the premier site connecting owners of Florida vacation rentals with interested travelers, is pleased to offer its suggestions for places to visit in Florida during Spring Break 2007. While it's true that high school and college students take over many of the beaches each year at this time, there are still many places that families or couples can visit in Florida for relaxation and fun.
Orlando is always a popular destination, and taking the kids to the theme parks during Spring Break will provide hours of entertainment. Plus, many Florida vacation rentals in the area are available for short-term stays, making this location attractive and affordable at any time of year.
Tampa is another excellent choice for both couples and families, who will discover a peaceful beach vacation in a location that's a bit out of the way. Enjoying charming Florida vacation rentals for the week can help to save money over pricey hotels.
Miami Beach and Fort Lauderdale have also reached out to families in recent years and now provide an alternative for those wishing to avoid the collegiate crush of Spring Break.
For couples looking for a romantic Spring Break option, a trip to the Florida Keys can offer just the right solution. Aside from the opportunity to lounge on the beach, the Keys offer an array of attractions and activities to take part in throughout the week. Staying in Florida vacation rentals that offer amenities like a hot tub and a fully stocked kitchen can turn the week into even more of a luxurious vacation.
"It's not just college students who get excited about Spring Break," said Fraser Hannah, owner of Traveling2Florida.com. "This season marks a great time to get away for people of all ages. These locations are ideal for those who may be a little too old or too young for the party scene but who still want to enjoy a beach vacation in the spring. And taking advantage of Florida vacation rentals instead of staying in hotels can help everyone save money."
About Traveling2Florida.com
Traveling2florida.com was founded in 2003 in response to the frustration felt at the lack of vision shown by many of the existing vacation rental sites. Traveling2Florida.com now connects thousands of travelers directly with the owners of high-quality vacation rentals in Florida, from Orlando to the Florida Keys. For more information about listing rental properties on the site or about finding a property to rent, please visit http://www.traveling2florida.com.
###