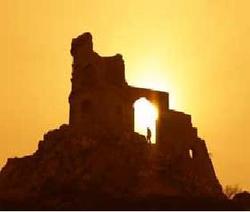 (PRWeb UK) February 25, 2010
Spring is finally on its way. Temperatures are slowly rising and days are gradually getting longer, so the idea of going on day trips with the family is much more appealing. There is so much to do and see in England today - you haven't got to go somewhere exotic to see something special or learn something new.
For thrill seekers and adrenaline junkies, there are theme and adventure parks located all over the country. If riding the rollercoasters and snacking on candyfloss sounds like your idea of a great day out, then a trip to Alton Towers is just what you need. There's something for everyone, from the scary Nemesis and brand new Thirteen ride to Cloud Cuckoo Land for kids. Take note of height restrictions, however, otherwise you may have some disappointed little faces if the kids aren't tall enough to go on their favourite rides. Thorpe Park, Drayton Manor and Chessington World of Adventures are also fantastic fun.
If you prefer to learn while on your travels, there are many educational yet fun things for the family to do. You can visit galleries, museums and exhibitions for free. A popular choice is Nottingham's historic Galleries of Justice museum, where you can take a trip into the past and experience crime and punishment of times gone by. Alternatively, why not take a trip to London and go on a London Bridge tour, where you can travel back in time to see what London was really like in the 'olden days'. Interactive learning is great for kids and adults alike so it's the perfect idea for a spring day out.
If it isn't the past that interests you but the present, or the wonders of Mother Nature, you can discover some of the many treasures buried beneath England. Dotted around the country are many natural caverns and caves just waiting to be explored - some quite stunningly spectacular. You can learn how they were formed and be shown around by expert tour guides, or explore by yourselves. Some of the best include Speed Well Caverns, Poole's Cavern, Hell-Fire Caves, Cheddar Caves, Wookey Hole and the Carnglaze Caverns.
For those who are more interested in science than nature, a trip to the New Planetarium at the Royal Observatory is in order. You can unravel the many mysteries of the night skies and our solar system. Science enthusiasts would also enjoy a day out at the Inspire Discovery Centre in Norwich, where you can explore and learn about science with fun hands-on activities.
If you and your family are fanatical about animals, there are many wonderful animal-related days out to be enjoyed. There are lots of zoos and safari parks dotted around England, including Whipsnade Wild Animal Park and Chester Zoo. There's always a special event going on at Chester, and spring is no exception - you'll find themed activities and walks, exclusive tours and more. Plus of course there are over 4000 amazing animals from 400 different species. Monkey World also provides a truly memorable animal experience - it's a chimpanzee rescue centre in Dorset, where you can meet some fascinating and endangered primates. Attractions like these provide great family fun where you can learn about and watch animals in their natural habitat.
If you prefer the underwater variety of animals, then head to a Sea Life Centre or other aquarium where you can feast your eyes on the many surprising creatures that lurk beneath the waves. For something more gentle, there is a beautiful butterfly farm in Stratford-upon-Avon, where you can learn all about colourful butterflies from across the world as they fly around you. It's also home to Arachnoland, where you can enjoy a close encounter the world's biggest spider!
If you don't fancy spending too much money, there's always England's vast coastline to explore. Spring is the best time for a day out at the seaside - the really cold winter weather has gone but the busy crowds of summer are still a long way off. If you need warming up, you can always tuck into some traditional fish and chips!
Whatever you want to do in spring, England has something to offer - so get out and about, have fun and explore the country.
For further press information, to request spokespeople or for high resolution images please contact:
Stephanie Boyle / Yolanda Copes-Stepney
Tel: 020 7578 1446 / 1447
Email: stephanie.boyle(at)visitengland(dot)org / yolanda.copes-stepney(at)visitengland(dot)org.
Notes to editors:
About VisitEngland

In response to a clear call from industry arising from the 2008 British Tourism Framework Review, VisitEngland has been created as the strategic leadership body representing the public and private sector stakeholders of English Tourism. It works in partnership with VisitBritain, the RDAs and local authorities, and the private sector, creating a national tourism strategy, optimising marketing investment, and developing the visitor experience across England.
VisitEngland continues to use its Enjoy England consumer brand in the domestic market and will market England under the VisitEngland brand in international markets.
For more ideas on weekend breaks and day trips go to http://www.visitengland.com and http://www.enjoyengland.com .
###