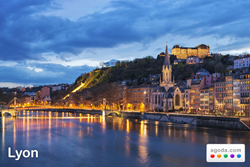 Spring in France is a wonderful time to visit, and these three towns offer a great mix of scenery, history, and culture. Visit one, or head to all three!
Singapore (PRWEB) April 09, 2014
Agoda.com, one of Asia's leading hotel booking sites and part of Nasdaq-listed Priceline Group (Nasdaq:PCLN), is offering a selection of great Spring hotels in three of the nicest and most picturesque destinations in France – Lyon, Nice, and Cannes.
As March becomes April, most of the population of France is stretching and yawning after a long winter, ready to head out and enjoy the warm weather, fresh air, and gorgeous scenery. Travelers can join the French in enjoying breaks outside of the capital. Paris is a powerful tourist draw at any time of year, although travelers that want to see France at its spring finest should also turn their attention south. Tiny towns dot rolling green countryside, world-class vineyards quite literally spring into life, and the deep blue water of the French Riviera is impossible to resist. The secrets to making the most of spring in France lie as much in these towns, vines and waters as they do in the streets of Paris.
Lyon is the third largest city in France (after Paris and Marseille), and is known for its exquisite food and beautiful architecture. It's also famed as the home of Auguste and Louis Lumière, who pioneered the first motion pictures. Walking or biking is the best way to take in the sites in this UNESCO World Heritage listed town. Explore the beautiful stone churches on Fourvière Hill, enjoy magnificent food shopping at Croix-Rousse Market, and stroll aimlessly along the Saône River through the historic Vieux Lyons neighborhood.
Further south and right along the coast sits the sparking blue watered and pebble stone beaches of Nice (pronounced "nees" for those who don't speak French). Nice has been a favorite spring time escape for those from the North since the 18th century. It's one of France's busiest destinations today, and spring is the perfect time to visit before the high crowds of summer. There is also much to do beyond the beaches and swimming. The majestic view across the city and the Mediterranean Sea from Mont Boron rightfully adorns the photo streams and Facebook feeds of scores of tourists. For the art lover Nice has many fantastic and world famous museums. Shoppers can hit Avenue Jean Médecin for huge malls and megastores or try something smaller like Cours Saleya for everything from fresh flowers to old antiques.
Just a bit further down the coast sits Cannes, most famous for its annual international film festival in May. Before the superstars arrive via yachts and helicopters, it's a prime tourist destination known for its five-star hotels and upscale shops, although there's plenty to do for all budgets. Take in the ultra-expensive hotels along the Promenade de la Croisette, or get lost in the narrow streets of Old Town, shopping and eating along the way. The Marché Forville is one of the town's best markets for dining and food shopping, and history buffs must visit the Musée de la Mer on St Marguerite Island, once home to the famed Man in the Iron Mask.
The lovely weather and rich culture make a trip to France during the early days of spring the perfect time to go. Head to the Agoda.com Press Center (http://press.agoda.com/news/2014/4/9/explore-lyon-nice-and-cannes-with-agodacoms-spring-hotel-dea.html) to find hotels that are offering great deals for travelers of all budgets, no matter if you visit one, two, or all three of these great cities!