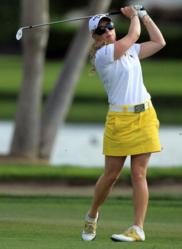 That's what women tell us they want, golf clothing that's fashionable, fits, and flatters.
Rancho Mirage, CA (Vocus/PRWEB) April 07, 2011
In response to record temperatures in the early rounds of the 40th Annual Kraft Nabisco Championship, players gave us all a preview of the colors and items in women's golf apparel we'll be seeing this spring and summer in shops and boutiques nationwide.
Bright colors, knee-length shorts, skorts and skirts, some with loops for wide belts, were seen on the tournament leaders.
"Solid coral, fuchsia, yellow, aqua, hot pink and strong reds were everywhere," said women's golf clothing designer Tracey Lynn Blake. "The colors on those items are what retailers have been ordering for spring and summer."
The temperature hit a record 103 degrees in Round Two on Friday.
That's when Morgan Pressel put on a functional and perfect-fitting white shirt and yellow skort to deal with the heat. With the temperature down 20 degrees to normal in the final round on Sunday, Pressel earned Blake's pick as wearing Sunday's Best® for selecting yet another practical, distinctive outfit. Pressel wore a red skort and black belt with a black cap-sleeve shirt accentuated with angular red and white stripes across the front.
"Strong colors appropriate to the conditions and clothes that fit perfectly allowed her to make a classy impression both days," said Blake, founder of the fashion-forward tracey lynn women's golf clothing line. "That's what women tell us they want, golf clothing that's fashionable, fits and flatters."
Getting a fashion pan from Blake was the world's leading women's player, Yani Tseng. "The women in our focus groups all agree and say women's golf apparel should enhance the player's appearance and be functional," Blake said. "Yani is a great player, and I am always reluctant to be critical, but Yani's low-rider shorts just don't reflect her standing in the game or contribute to her appearance. The label on her left shirt sleeve was peeling off, as well."
Background
Sunday's Best® is distributed after the final round of the four LPGA major championships to golf media, customers and friends of Tracey Lynn Blake, founder and president of tracey lynn golf. Subscribe to Sunday's Best® at http://www.traceylynngolf.com.
###