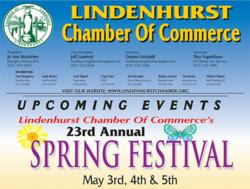 Come out to Long Island with your family and enjoy the beginning of spring in Lindenhurst Village at Spring Fest 2013
(Long Island, NY) (PRWEB) May 04, 2013
Beginning Friday, May 3, at 5 p.m. the Annual Spring Fest will attract residents from Lindenhurst and nearby Long Island communities looking to enjoy warm weather, live music, classic cars, rides, food and fun. This event will take place rain or shine.
Come out with your family and enjoy the beginning of spring in Lindenhurst Village at Spring Fest 2013.
Spring Fest will be held in the heart of Lindenhurst Village on Wellwood Avenue and is sponsored every year by the Lindenhurst Chamber of Commerce. Proceeds will be used to benefit commerce in Lindenhurst.
The three-day event running May 3rd to May 5th begins on Friday evening from 5:30 p.m. to 9 p.m., runs all day Saturday, May 4 from 12:30 p.m. to 9 p.m. and on Sunday 12 p.m. to 5 p.m.
Wellwood Avenue will be closed to traffic from Gates Avenue to John Street on Sunday to allow vendors with all types of interesting keepsake's as well as rides, games, sausage and peppers, prizes and crafts for sale.
###
About Long Island Exchange Inc.
Launched in 2002, LongIslandExchange.com is a privately owned media company providing Long Islanders with a wealth of information, news, local business data, and resources for planning activities in the area. The site has won five awards from BOLI, Best on Long Island, in best of categories like "News, Media and Publications" as well as "Best Web Site of the Year".
Long Island Exchange Inc is a member of the Lindenhurst Chamber of Commerce, the Copiague Chamber of Commerce and the Better Business Bureau serving Metropolitan New York, Long Island, and the Mid-Hudson Region.
For more information on this event please visit http://www.longislandexchange.com/press/2013/05/03/spring-fest-2013-in-lindenhurst-village-sponsored-by-lindenhurst-chamber-of-commerce/