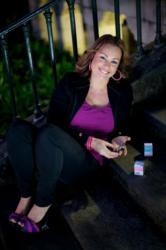 Starlettos are not just for brides though. All ladies in the bridal party, including bridesmaids, and mothers of the bride and groom - should wear them as well
(PRWEB) April 18, 2012
Spring and summer weddings are being planned all over the country, and the successful ones will have a special 'guest' with an Australian accent. Starlettos high heel protectors, already popular at formal and outdoor events in Australia, have just been launched in the US, with wedding planners and bridal parties from coast to coast adding them to their 'must-have' lists.
Starlettos are not new to the US however. Until now they have been available to A-list celebrities at awards events, including the 2012 Academy Awards and the Emmy® Awards in 2011. It has been their success at these events that has created the demand from the American public.
"Starlettos are little flower-shaped high heel protectors that attach to the bottom of stilettos and heels, and deliver unparalleled red-carpet confidence" said Starlettos Founder, Ilde Naismith-Beeley. "They not only stop heels from sinking into plush carpet, but they improve the grip on stairs, and help prevent heels damaging expensive gowns."
The Starlettos team recognizes the trend to have spring wedding ceremonies and photographs outdoors, particularly in the warmer months, and it is on grassy surfaces that Starlettos really shine. Because they increase the area at which the heel connects to the ground, the wearer's weight is distributed more evenly, preventing the heel from sinking into the grass.
"Heels sinking into grass is often the cause of wedding mishaps - falling, tripping, stepping out of the shoes, and damaging gowns - and pride" says Ilde. "Starlettos are not just for brides though. All ladies in the bridal party, including bridesmaids, and mothers of the bride and groom - should wear them as well."
Ms Naismith Beeley says an increasing trend, particularly for outdoor weddings is for guests to be gifted with clear Starlettos that will work with every color shoe. "It is a welcoming and thoughtful touch that is setting a new standard for hosts and wedding planners."
For more information about where to purchase Starlettos in the USA, visit http://www.starlettos.com
About Starlettos
Australian-designed, globally-loved, now in the USA!
Starlettos are high heel protectors with a focus on design. They are easily slipped on and off stilettos and high heels to prevent them from sinking into grass at high-fashion outdoor events. With the added benefit of a non-slip base they provide the wearer with red-carpet confidence at events where high heels star: weddings, proms and awards ceremonies.
Starlettos are the brainchild of Australian Ilde Naismith-Beeley, and were the result of her own desire to wear beautiful shoes at her outdoor, on grass, wedding. In the process of creating Starlettos, Ilde solved two other stiletto-wearing-bride dilemmas - instability on stairs and dance floors, and potential damage to the wedding dress.
The full Starlettos story is at http://www.starlettos.com