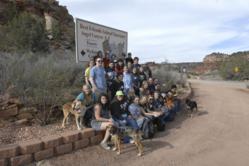 With their inclusion of physical 'dirty work', animal socialization opportunities, and educational talks, you come back from spring break knowing you made a difference, and wanting to continue that cause back at home.
Kanab, Utah (Vocus/PRWEB) April 05, 2011
College students have found 1,700 reasons—the number of animals at Best Friends Animal Society's sanctuary in beautiful high desert canyon country—to descend on southern Utah for a meaningful, service-filled spring break instead of the usual all-out party destination..
So instead of self-serving partying down and days of cavorting on beaches, these dedicated students spend days volunteering to work with dogs, cats, horses, birds, bunnies and the other assorted creatures who call the sanctuary their home.
Danielle Hartill, manager of the Learning Experience at Best Friends Animal Society, this year welcomed 80 college and 30 high school students to the sanctuary as part of a national program called Alternative Spring Break, which provides students opportunities to volunteer on a variety of social and environmental causes. All participating students sign a pledge that they will stay alcohol and drug free during their break.
"For many participants, this actually becomes a valuable bonding experience with their fellow students because they have to work together in order to help the animals. For some of the schools that sent students this year, it was their first trip to Best Friends," Hartill said.
Students participated in the day-to-day work of caring for the wide variety of abused, abandoned animals that reside at the sanctuary and in the process learned about the issues causing the homeless pet problem in this country.
"Best Friends provides such a fantastic learning experience for college students," said Harley Songin, a participant from Northeastern University. "With their inclusion of physical 'dirty work', animal socialization opportunities, and educational talks, you come back from spring break knowing you made a difference, and wanting to continue that cause back at home.
"I have participated in Northeastern's Alternative Spring Break program two years in a row, both times at Best Friends, and each time has been truly inspiring. I can't imagine spending my Spring Break any other way, and I can't wait to come back!"
Megan Simon a Spanish teacher who runs the community service program at Lawrence Academy, a prep school in Groton, Mass., said: "It was amazing to see Best Friends through my students' eyes. At least half of them had very little knowledge about the daily issues facing Best Friends and other humane institutions. From the moment we arrived, you could see their eyes opening through their thoughtful questions and daily reflections about life in this very different environment.
"It was wonderful to see our students questioning their own practices of buying pets, breed discrimination, and even unawareness about so many animal issues. Our incredible leaders from The Learning Experience connected with the students and went out of their way to make our experience enjoyable and enriching. I look forward to sharing this experience with another group of students next year."
Steven Lewis, a learning specialist at Salt Lake City Community College, said he chose the sanctuary for his students because it could accommodate students with special needs.
"Most people don't know that half of the student population at Salt Lake City Community College have special needs, and this was the one alternative spring break location that I could determine was handi-capable."
Lewis actually came to the sanctuary ahead of time and negotiated the sanctuary grounds in a wheelchair to make sure his students could navigate paths and roadways.
Many of the students said that their Best Friends experience was life changing.
"One of my students who has autism told me that the experience at Best Friends got him out of his comfort zone in a good way—and for the first time in his life he made friends. I also see that many of my students are considering more socially driven career paths as a result of their visit to the sanctuary. One of them from last year's visit is studying to be a veterinarian.
Faith Rheaume of Western Michigan University said: "My experience at Best Friends was unforgettable. It is the love and hope given by all the staff and caregivers that is reflected back into the eyes of all the animals. It is not solely about us changing the lives of all these animals, but that they also are changing ours.
"There is an unconditional love and forgiveness that can only be learned from an animal who has never had another chance for a life that does not harm or betray them. Yet, their spirit is hopeful and open to love, asking only your love in return."
To see some of the college students in action, view "Best Friends is a Destination for Spring Break: http://www.youtube.com/watch?v=nNIXD6oI3aw&feature=channel_video_title
Participating schools in Best Friends Animal Society's Learning Experience for Spring Break 2011:
Northeastern University
Western Michigan University
Colorado State University
University of Pennsylvania
Salt Lake City Community College
University of Wyoming
University of California Los Angeles
St. Margaret's
Marin Academy
Lawrence Academy
About Best Friends Animal Society®:
Best Friends Animal Society is a nonprofit organization building no-kill programs and partnerships that will bring about a day when there are No More Homeless Pets®. The society's leading initiatives in animal care and community programs are coordinated from its Kanab, Utah, headquarters, the country's largest no-kill sanctuary. This work is made possible by the personal and financial support of a grassroots network of supporters and community partners across the nation.
To become a fan of Best Friends Animal Society on Facebook: http://www.facebook.com/bestfriendsanimalsociety
To follow Best Friends Animal Society on Twitter: http://twitter.com/BFAS
# # #