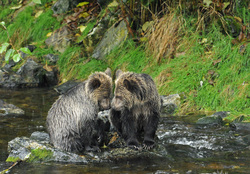 "There are few places on earth where so much magnificent wildlife and scenery can be experienced from one location."
Missoula, MT (PRWEB) February 18, 2011
The Vital Ground Foundation, a Missoula, MT-based land trust dedicated to protecting habitat for grizzly bears and other wildlife, has announced dates for its 10th Annual Wild Bear Adventure to Knight Inlet, British Columbia, one of the premier grizzly bear and marine wildlife viewing locations in the world.
The May 14-20, 2011 ecotour will hub out of the fishing town of Campbell River on Vancouver Island. Guests will depart via floatplane on May 15th from Campbell River for a thirty-minute flight to Knight Inlet Lodge.
The Knight Inlet region offers a true west coast adventure, with towering snow-capped mountains rising straight out of the sea, cascading waterfalls and waterslides, and a history rich in native culture.
Anchored to a rock face in Glendale Cove, Knight Inlet Lodge is unique in that it is an ecologically sensitive complex floating on the open ocean. The cove itself is home to one of the largest concentrations of grizzly bears in British Columbia.
Springtime in Knight Inlet offers an opportunity to see newborn bear cubs as they first venture out with their mothers into the natural world and feed on sedge grasses, mussels and barnacles along the shoreline and in the estuary.
"There are few places on earth where so much magnificent wildlife and scenery can be experienced from one location," says Vital Ground Executive Director, Gary Wolfe, who has made the trip several times. "Photographic opportunities abound in the spring, with the bears moving about in a lush green environment with spectacular backdrops."
With several excursions offered each day by the lodge's renowned naturalist guides, guests can hike deep into the rainforest to view waterfalls, take a boat ride to see ancient pictographs left by the Kwakwaka'wawk tribe, or kayak up the estuary to witness bear activity up close. Marine wildlife watching tours are also available, where participants may encounter orcas, minke whales, sea lions, seals, white-sided dolphins, and an array of sea birds.
Vital Ground's 10th Annual Wild Bear Adventure will be a wildlife and scenery sensation and an opportunity to meet Vital Ground staff and board members and guests from around the world interested in wildlife and habitat conservation.
Vital Ground invites interested parties to join the trip and enjoy a once-in-a-lifetime experience in a pristine natural environment. Guests will also have the satisfaction of knowing that Knight Inlet Lodge donates tour proceeds to Vital Ground in support of its conservation mission.
Limited to 30 persons, the trip books quickly.
For more information, pricing, and reservations, please call 406-549-8650 or visit http://www.vitalground.org.
An outstanding video of Knight Inlet and Knight Inlet Lodge can be viewed at http://www.grizzlytours.com.
A fall 2011 trip is scheduled for October 12-16 to witness the Glendale River salmon run.
# # #