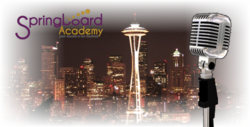 The "Successful Career Transitions" PowerTalk event is scheduled for Tuesday, October 2nd
SEATTLE, WA (PRWEB) October 01, 2012
The Springboard Academy, a Seattle-based professional development company that gives people a competitive edge in the workplace, is pleased to announce a new free PowerTalk event series with the first to be focused on "Successful Career Transitions".
The "Successful Career Transitions" PowerTalk event is scheduled for Tuesday, October 2nd at 5:30 PM.
When:
October, 2 2012
Location:
Springboard Academy
6100 Fourth Ave S
Seattle, 98108
(Free parking is available)
The Agenda:
5:30 – 6:00 Networking
6:00 – 6:10 Introductions
6:10 – 7:15 Moderated Panel Discussion
7:15 – 7:30 Q&A
More information can be found at: http://www.thespringboardacademy.com/powertalk1022012
The "Successful Career Transitions" Power Talk event will include an expert panel to answer questions such as:
"Do you think it's realistic for people to make a major career change in today's market? Any tips/examples to share?"
"For somebody looking to get ahead in their current organization, what advice would you give them?"
"What do you think is different about careers and the job market today compared to years or decades past?"
Matthew B. Youngquist, the President & Founder of Career Horizons, will be moderating the panel. Mr. Youngquist is a Bellevue-based career coach and outplacement consultant who specializes in helping Puget Sound professionals navigate through today's uncharted employment waters. In his current role, he consults with clients at all levels on how to strategically manage their careers, explore their occupational options, package their qualifications in resume format, and market themselves successfully to new opportunities. To date, he has personally assisted over 7,500 clients through the job hunting process, in addition to the audience he reaches through his columns in the Seattle Times and Puget Sound Business Journal.
This special event is free of charge and it is intended for those who are at an early, mid or later career stage. Each event attendee will hear what the expert panel has to say about career transition during a time of high unemployment. Matthew B. Youngquist and the expert panel will cover transitions related to the corporate career ladder or changing industries.
The expert panel includes:
Margo Myers - After spending more than 20 years in the news industry and in front of the TV camera, primarily as an anchor at KIRO-TV and KOMO-TV in Seattle, Margo has won multiple awards for her anchoring ability. She has successfully transitioned out of the news industry and now pursues her passion of sharing her knowledge and expertise with others to help them excel in their careers.
Suzanne Keel-Eckmann - Suzanne is a Firm Director for Deloitte, the international accounting and consulting firm. Prior to joining Deloitte, she held positions as a non-profit executive, law firm administrator, and owner of her own business. In her 14+ years at Deloitte, she has "intrapreneured" her way from Northwest Region Operations leader, to National Director of Workplace Service Strategies, to her current position as National Director of Corporate Responsibility and Sustainability. She also led the Deloitte Services Women's Initiative.
Larry Judd - Larry Judd brings a uniquely valuable perspective to the college selection process. As a college and university recruiter for 10 years, he has personally visited more than 250 campuses in 30 states, gaining a comprehensive, multi-dimensional feel for each school environment and the specific types of students who thrive in it. Additionally, as an award-winning high school teacher for many years, he's accustomed to working with a large and extremely diverse mix of young adults, coaching them to reach their full potential and make the best possible choices about their future.
For more information, please contact Margo Myers, Executive Director of The Springboard Academy at margo(at)thespringboardacademy(dot)com.
About The Springboard Academy PowerTalks:
The PowerTalk speakers are specially selected to provide educational and inspiring topics which relate directly with career success or entrepreneurship. Each PowerTalk event also gives attendees the opportunity to connect with the business community, get more support and power network.
The Springboard Academy is a professional development organization designed to accelerate success in the workplace. Training courses help you be more productive, lead your team, communicate clearly, network effectively, and develop a personal brand, as well as make a great first impression, create a professional image and manage social media. Founded in Seattle in 2010, The Springboard Academy gives people the tools to be their best, because your success is our business. Visit us at http://www.thespringboardacademy.com.