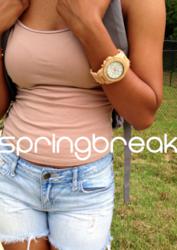 Our wood watch is eco-friendly, colorful, extremely affordable, and has a clear mission for social change.
Charlotte, NC (PRWEB) June 05, 2013
SpringBreak Watches (http://www.springbreakwatches.com) today announced that it is launching the first eco-friendly and stylish wood watch brand with a purpose on June 25th, 2013. Their modern White Party wood watch is the first watch to integrate vibrant colors and high-fashion designs with sustainable wood. Building on their passion for kids, Springbreak will also donate a portion of their sales from each watch sold to children living in hunger. Each wood watch sold provides up to 10 meals to a child in need.
The eco-friendly start-up was created by a recent war veteran and recent MBA graduate who both have a mutual infatuation with unique watches, fashionable accessories, and environmentally friendly products. Their 'White Party' wooden watch combines high-fashion and sustainable wood to create the most stylish watch around. The White Party is not only unique and stylish, but it is moderately priced and has the feel of a standard watch. People who are fond of using unique items will surely feel delighted with the watches they offer.
The two fraternity brothers decided to create their own new watch after discovering the huge lack of watch diversity in the watch industry. "We felt the watch industry was lacking originality and wanted to create a watch that would appeal to self-expressive individuals and watch enthusiasts, with the added benefit of not negatively impacting the environment," says K. Andrews, SpringBreak co-founder. "We also wanted the White Party to be affordable for our customers, unlike other wood watches, which are extremely over priced for an inexpensive material such as wood." In addition, Springbreak plans on launching other wood watches of various colors, so by pricing their watches at an affordable price, their customers will feel comfortable purchasing multiple wood watches to match their various outfits.
It took the North Carolina natives years to create the perfect design and to finally settle on using wood as their main material. "We brainstormed on the idea of using stone, plastic, and other materials, but wood stood out to us because of its naturally attractive appeal and it's abundant eco-benefits." By using wood, their watch will have a low carbon footprint, it will be renewable and will store carbon dioxide, and it will be more cost-effective for consumers than a standard metal watch.
To learn more about the company, help support their mission, and gather information on their lauch, please visit their website at: http://www.springbreakwatches.com or follow them @woodwatches on IG, Twitter, or Pinterest.