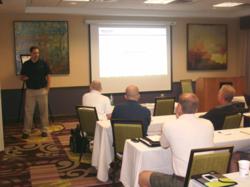 Plainfield, Ill. (PRWEB) November 30, 2012
Training is critical to any job, and Spring-Green Lawn Care makes training for new franchise owners a priority. Two new franchise programs for green industry employees and business owners have led Spring-Green to enhance the training and support offered to franchisees. In addition to a familiarity with the industry, people with green industry experience often have pre-existing lawn and tree knowledge. With the training Spring-Green provides, green industry employees and business owners have the existing knowledge and business experience to diversify their existing businesses with a Spring-Green franchise.
The Spring-Green Lawn Care corporate support center provides training on the areas that are most critical to the success of a business, which includes more than just information about lawns and trees. New franchise owners come to the corporate support center for the initial training program, and a member of the support team follows new owners home to begin in-field training, helping with staff development, computer support and in-field marketing support. During their first and second year in business, franchise owners will receive daily communication, participate in conference calls with their peers and get multiple field visits from a corporate support staff member.
Spring-Green also provides ongoing support to help franchise owners maximize their growth and profitability. Ongoing support focuses on six areas: hiring and staff development, technology support, financial support, agronomic support, equipment support and marketing support. These are key areas to business success, and Spring-Green business consultants can share the expertise the corporate support center has gained from over 35 years of experience.
Every franchise owner has a different background and may need more or less support in certain areas. For hiring and staff development, Spring-Green can help franchise owners build the right team and develop leadership skills. Spring-Green is a technology savvy organization and provides support for the business software, which helps owners make decisions based on data and analysis. Financial support is available to guide owners in decision making based on examples and comparison data from their peers. Agronomic training includes onsite visits, webinars, regional meetings, national conferences and professional development seminars. Equipment is an important part of improving productivity and profitability, and a Spring-Green equipment specialist can make recommendations on a variety of new and field tested equipment so franchise owners and their business consultants can determine the return on investment. Spring-Green also has a rapid response parts delivery program and a library of informational videos on how to properly maintain and refurbish equipment. Spring-Green's industry-leading business and marketing intelligence helps owners select and analyze the best marketing program.
"Training is one of the biggest keys to success in any business, especially for the lawn and tree care industry," said James Young, president of Spring-Green Lawn Care. "We've honed our training programs over the years to provide the best possible preparation for our franchise owners, and we've definitely seen great results with the success of many new franchise owners."
Founded in 1977, Plainfield, Illinois-based Spring-Green Lawn Care has been delivering lawn and tree care services nationwide for over 35 years. Its service is centered on the beautification of residential and commercial customers in middle-class and affluent neighborhoods and communities. Spring-Green is an attractive opportunity for green industry professionals who want to align themselves with a franchise opportunity that has proven economic resilience, healthy profit margins, industry leading business and marketing intelligence, recurring revenue and retirement & family planning through business ownership. Spring-Green currently has 117 franchises operating in 26 states. Spring-Green Lawn Care franchise owners gave the franchise opportunity a 94 percent overall quality rating, according to the Franchise Research Institute 2011 survey. For more information, visit http://www.springgreenfranchise.com, http://www.spring-greenfranchiseblog.com or follow Spring-Green Franchise on Facebook, Twitter, LinkedIn or Google+.