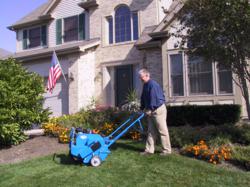 Plainfield, IL (PRWEB) December 22, 2011
Spring-Green Lawn Care is once again pleased to announce its world class FranSurvey® results administered by the Franchise Research Institute®, an organization dedicated to promoting high standards of excellence throughout the franchising industry.
With more franchise opportunities available today than ever before, the process of researching and purchasing a franchise can be overwhelming. Each year, the Franchise Research Institute surveys thousands of franchisees to gauge their level of satisfaction with their franchisor. FranSurvey is an invaluable tool in assessing the health of any franchise, based on the feedback of the true franchise experts – the franchisees!
"At Spring-Green, we do everything in our power to give our franchisees the most supportive and positive experience as possible," said Ted Hofer, CEO of Spring-Green Lawn Care. "Seeing that effort has not gone unnoticed will only keep us continuing to improve upon our services in the years to come."
FranSurvey is a comprehensive, confidential survey that provides input on all of the key variables in a franchise relationship including training, marketing, helpfulness of support staff, quality of products and services and more to provide a sense of whether current franchisees are energetic, successful, profitable and enthusiastic about their business. Spring-Green's franchisees certainly are, as the survey reported a 97 percent success score when it comes to quality performance throughout the organization (a startling number in a down economy).
"The FranSurvey certification system is the gold standard of the franchise business. Any franchise company that receives FranSurvey certification has proven its commitment to the success of its franchisees," said Jeff Johnson, founder and CEO of the Franchise Research Institute. "Only the best franchise companies earn the right to display the FranSurvey seal, which signifies a documented commitment to supporting and assisting their franchisee. It's the best assurance you can get that a potential franchise investment is a good one."
Spring-Green's commitment to use FranSurvey further validates the scores as a franchisor who cares and has established a high level of trust with its franchisees and customers. "We were extremely impressed to see such high scores in every area; with exceptionally positive responses in the overall quality of the franchise, the commitment to a positive long-term relationship and the support not just between the franchisor and franchisee, but also a 99 percent satisfaction rating between fellow franchisees. That team chemistry is unheard of," Johnson said.
Founded in 1977, Plainfield, Illinois-based Spring-Green Lawn Care has been delivering lawn and tree care services nationwide for over 34 years. Its service is centered on the beautification of residential and commercial customers in middle-class and affluent neighborhoods and communities. Spring-Green is an attractive opportunity for candidates who do not want to be tied to a storefront operation, retail hours or set appointments. Franchisees enjoy a lifestyle of being in an outdoor-based business with recurring revenues that allow the business to continue to scale. Spring-Green currently has 119 franchises operating in 26 states and projections call for 10 new franchises in 2012. For more information, visit http://www.springgreenfranchise.com.
###