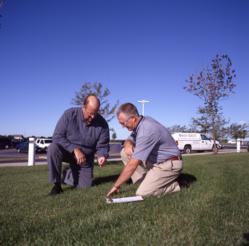 Plainfield, IL (PRWEB) March 29, 2012
Spring-Green Lawn Care has made reinvesting in its franchise owners' success a priority in recent years and they plan on doing more in 2012 with their green industry initiatives. Spring-Green will finance a portion of the franchise fee to help reduce the entrance cost for all franchise candidates. The Flex Start program will be enhanced to include 12 weeks following commencement without royalty or advertising fund fees. The company's Marketing Reinvestment Program applies up to $10,000 of the initial franchise fee for marketing programs during their second full year of operations. Additionally, Spring-Green is offering a Green Associate Assistance Program to qualified candidates who currently own or are employed by Green Industry businesses where Spring-Green will apply up to an additional $10,000 of the initial franchise fee toward start-up expenses. For Green Associates that own independent Green Industry businesses that provide professional lawn and tree care services and want to convert that portion of the business to a Spring-Green franchise, a reduced royalty rate is offered for the first 12 months after commencement. The company also offers a lease program for certain equipment and software, proprietary tools, business and marketing planning and a call center to help franchisees get started and stay successful.
At the support center, Spring-Green offers industry-leading business and marketing intelligence that gives franchise owners the ability to monitor their business intelligence in areas like production and sales. Spring-Green also offers proprietary tools for marketing selection and analysis so franchise owners can view and analyze all of their current and prospective customer demographics, select their mailing lists and promotional offers and send this information directly to the printer for timed- or event-driven distribution. A national call center (an optional service for franchise owners) supports both inbound and outbound calling services during peak times of the year. This gives franchisees the opportunity to focus on their team and customer experiences.
The support center can provide lawn measurements for each franchisee's territory using satellite imagery. This allows the national call center to provide accurate estimates saving valuable time in the field. The support center also hosts annual business and marketing planning sessions for every franchise owner. More than 50 percent of the franchise owners elect to visit the support center each year for one and a half days of strategic planning, additional personalized training, marketing planning and to revise and reproject their business both short and long term.
"Business planning is extremely beneficial to our franchise owners and we are happy that so many have taken advantage of the opportunity," said James Young, president of Spring-Green Lawn Care. "The value of what franchise owners learn in a day and a half at the support center for business planning is huge. It covers everything from marketing and operations to short-term and long-term goals."
Rob Leiner, owner of Spring-Green Lawn Care in Waconia, Minn., said: "Business and marketing planning really prepared us for this season. I learned a lot and was able to sit down and focus on what we needed to do to build on our success from the year before. We set some long-term goals that I look forward to achieving. This is a great added service from the support center."
Founded in 1977, Plainfield, Illinois-based Spring-Green Lawn Care has been delivering lawn and tree care services nationwide for over 35 years. Its service is centered on the beautification of residential and commercial customers in middle-class and affluent neighborhoods and communities. Spring-Green is an attractive opportunity for candidates who do not want to be tied to a storefront operation, retail hours or set appointments. Franchisees enjoy a lifestyle of being in an outdoor-based business with recurring revenues that allow the business to continue to scale. Spring-Green currently has 119 franchises operating in 26 states and projections call for 10 new franchises in 2012. For more information, visit http://www.springgreenfranchise.com, http://www.spring-greenfranchiseblog.com or follow Spring-Green Franchise on Facebook, Twitter, LinkedIn or Google+.