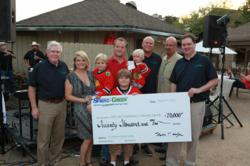 Plainfield, IL (PRWEB) August 31, 2011
Spring-Green Lawn Care welcomed more than 225 franchise owners, managers, employees and spouses to its National Training Conference in August at Hilton Chicago/Indian Lakes Resort in Bloomingdale, Ill. Themed "Building for Profit," the focus of the event leveraged the collective knowledge of the organization and its strategic vendors as they worked to continue growing local businesses and market leadership in these challenging times.
"Spring-Green franchise owners had an excellent year in an economy that has not stabilized," said Ted Hofer, Spring-Green Lawn Care's CEO. "We were joined by keynote speaker Thom Winninger who spoke about market leadership, Susan Black-Beth who spoke on the realities of running a family business, as well as other experts and strategic vendors in the fields of operations, marketing and technology. Along with knowledge gained from other owners, our franchise owners went home armed with dozens of practical solutions to grow their business. To be successful in these times, you must execute."
Spring-Green raised $20,000 through a silent auction that included prize donations from event sponsors John Deere Landscapes, Pro Ap, Real Green Systems, Agrium and others in the name of 4-year-old Jack Geibel for the Aflac Cancer Center of Children's Healthcare of Atlanta. Jack was diagnosed with acute lymphoblastic leukemia (ALL) in November 2010 and is being treated at the Aflac Cancer Center. ALL is a form of leukemia characterized by excess lymphoblasts that affects approximately 45,000 people per year, mostly children between ages 2-4. Lenny Geibel, Jack's father, has owned Spring-Green Lawn Care in Lawrenceville, Georgia for four years, and his wife, Paula, works for Bank of America. In addition to Jack, they have two more boys: Lenny, 10, and Max, 2. Lenny chose the Aflac Children's Cancer Center as the recipient of Spring-Green's donation. He will present the $20,000 check with Jack on Sept. 7, 2011. "Our family feels very blessed that Spring-Green offered to so generously support a cause that has directly touched our family," Geibel said. "We are thrilled that $20,000 will go to help the cancer center where Jack is being treated."
Founded in 1977, Plainfield, Illinois-based Spring-Green Lawn Care has been delivering both traditional and organic lawn and tree care services nationwide for over 34 years. Its service is centered on the beautification of local neighborhoods and communities with both residential and commercial customers. Spring-Green is an attractive opportunity for candidates who do not want to be tied to a storefront operation, retail hours or set appointments. Franchise owners enjoy flexibility of schedule and an outdoor-based business with recurring revenue. Spring-Green currently has approximately 75 franchisees operating more than 120 territories in 27 states and projections call for eight new franchises in 2011.
For more information about becoming a Spring-Green franchisee, contact Mark Potocki at 800-777-8608 or via e-mail at mpotocki(at)spring-green(dot)com or visit the Spring-Green website at http://www.springgreenfranchise.com.
###