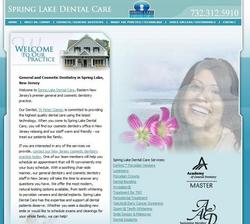 You can see where the draw of our seaside community could be a perfect opportunity to combine dental care with a family trip.
Spring Lake, NJ (PRWEB) June 13, 2008
For most people, a trip to the dentist is anything but a vacation. But for those actually on vacation or just lucky enough to live in the unique Jersey Shore resort community of Spring Lake, a trip to the dentist can be as pleasant and relaxing as an out of town excursion. In fact, turning a trip to the dentist into a family get away can actually ease fearful patient's minds of their pending dental procedures.
Native New Jersey cosmetic dentist, Dr. Peter Ciampi (of Spring Lake Dental Care) recognizes the appeal of Spring Lake, and has designed a modern, relaxed atmosphere to ensure that his patients are comfortable and their visits are as efficient as possible. Dr. Ciampi explains, "You can see where the draw of our seaside community could be a perfect opportunity to combine dental care with a family trip." He adds, "Our patients that elect to go on dental vacations enjoy a number of benefits including:

Not having to make arrangements for extra time off work.
Today's advanced technology diminishes procedure and recovery time so patients can spend more time enjoying their stay.
Modest patients can disguise cosmetic enhancements through a vacation alibi which helps them avoid the "just had work done" look."
Conveniently located in Spring Lake for more than 10 years, Spring Lake Dental Care offers all preventative, cosmetic, and restorative dental treatments. As a member of the prestigious American Academy of Cosmetic Dentistry and a Master of the Academy of General Dentistry, Dr. Ciampi is uniquely qualified to create advanced smile designs and complete smile makeovers. He is able to dramatically enhance the smiles of his New Jersey cosmetic dentistry patients by using premium quality porcelain veneers such as DaVinci Veneers™ and LUMINEERS®. In addition Dr. Ciampi utilizes a Deep Bleaching technique to give his New Jersey teeth whitening patients the bright smiles they desire.
Dental Vacation Patient Testimonials:
"The day after having my porcelain veneers put on, I went to my daughter's kindergarten graduation. I actually had one of the other mother's ask me if I lightened my hair, I look so much brighter. I was so proud to show off my new smile. Thanks so much for making me look and feel younger than I am!!!"
"I've tried all types of tooth whitening systems in the past; over the counter products, home trays, and even Britesmile. Nothing could help my grey tetracycline stained teeth. Then Dr. Peter Ciampi recommended and performed this new Deep Bleaching technique of tooth whitening. I now have what I've wanted all along, sparkling white teeth!"
For more information about the services offered at Spring Lake Dental Care, or to arrange your dental vacation appointment, call 732.312.5910 or visit Dr. Ciampi's website http://www.springlakesmiles.com
# # #