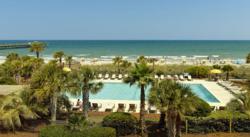 Myrtle Beach, SC (PRWEB) August 03, 2012
Springmaid Beach Resort, located in Myrtle Beach, South Carolina, has recently added a poolside bar to their dining options. Along with prior options, BARnacles and Marlins, The Back Porch Pool Bar & Grill has now been added to the line-up.
One of the best restaurants in Myrtle Beach, The Back Porch Pool Bar & Grill, got its name from its location - the back porch of Marlins Restaurant (known for its award winning breakfast buffet) - and features a full bar of beer, wine, liquor, frozen drinks, soda and some food items including hamburgers, hot dogs, and grilled chicken sandwiches.
"The special thing about The Back Porch is our drink known as 'Pineapple Paradise'," says marketing coordinator for Springmaid, Donald Hovis. "The 'Pineapple Paradise' can come as a pina colada, margarita or a strawberry daiquiri and is served in an actual halved pineapple. The drink adds to the whole experience of Springmaid."
Springmaid Beach Resort is located at 3200 South Ocean Boulevard in Myrtle Beach, SC, and is home to the longest over-water pier along the Grand Strand. While the pier is open to the public, the Back Porch, however, is only open to the guests of Springmaid Beach Resort. The Back Porch Pool Bar & Grill operates between the hours of 11am until 5pm.
The resort has recently undergone renovations to over 400 of its nearly 500 rooms, all of which feature full-sized refrigerators, microwaves, flat panel televisions and free wi-fi. It is located on ¼ mile of sandy beaches and has 6 pools, 2 lazy rivers, an 18 hole miniature golf course and a gaming arcade on-site.
Reservations for Springmaid Beach Resort can be made at http://www.springmaidbeach.com or by calling (866) 764-8501.