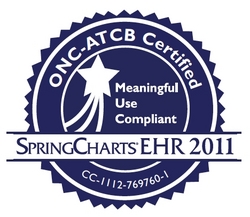 We believe Spring Charts is the easiest EHR to learn, install, customize, use, and therefore quickly demonstrate Meaningful Use," said Jack B. Smyth, CEO. "It is the fastest path to stimulus funds and great financials.
Houston, TX (PRWEB) March 15, 2011
Spring Medical Systems today announced that their electronic health record (EHR), SpringCharts EHR 2011, has been certified as meeting the specifications for a Complete Ambulatory EHR as defined by the National Coordinator for Health IT.
With this certification providers using SpringCharts EHR 2011 will be capable of meeting the Stage 1 Meaningful Use measures required to qualify for incentive funding from the American Recovery and Reinvestment Act (ARRA). Practices can now focus on moving "Beyond Certification" by quickly implementing SpringCharts qualifying them for meaningful use incentives but also providing inherent benefits that last for many years to come.
"SpringCharts has been the industry's easiest EHR to learn, install, customize and use for many years. And, its affordability, low cost platform, low training costs, productivity improvements and revenue generating features have long offered industry-leading financials for small to medium medical practices," said Jack B. Smyth, president and chief executive officer of Spring Medical Systems. "These benefits are now available in a certified product. With these key capabilities and our SpringCharts Guide to Meaningful Use, we believe SpringCharts EHR 2011 is the industry's quickest and easiest path to the demonstration of Meaningful Use Compliance and to receiving government incentives."
"The SpringCharts EHR 2011 product meets all of the certification criteria for a Complete Ambulatory EHR," said Stephen Wilson, EHR Program Manager of InfoGard, an authorized testing and certification body for the National Coordinator for Health IT (ONC-ATCB). "The team at Spring Medical was very knowledgeable and demonstrated a complete understanding of the Spring Charts EHR solution.
Eligible professionals (EPs), participating in Medicare and Medicaid programs can collect incentive payments through meaningful use of ONC-ATCB certified electronic health record (EHR) technology. For more information on Meaningful Use, and incentive payments, see SpringCharts Meaningful Use Guide.
Note: ONC-ATCB 2011/2012 certification does not represent an endorsement of the certified EHR technology by the U.S. Department of Health and Human Services nor does it guarantee the receipt of incentive payments. The certification number assigned to SpringCharts EHR 2011 is: IG-2444-11-0037 (issued March 9, 2011).
SpringCharts EHR 2011 was tested and certified to all General Criteria (§170.302.a - §170.302.v), Ambulatory Criteria (§170.304.a - §170.304.j), and the following Ambulatory Clinical Quality Measures (per §170.304.j): NQF 0013, NQF 0024, NQF 0028, NQF 0038, NQF 0041, NQF 0421, NQF 0059, NQF 0061, and NQF 0064.
About Spring Medical Systems (http://www.springmedical.com)
Spring Medical Systems, Inc. was founded by a team of physicians and technology professionals with the primary goal of developing easy-to-use software solutions that empower physicians to increase efficiency, reduce costs, and provide better patient care. The Company's flagship offering is the SpringCharts® family of products. These innovative electronic health records solutions combine the right mix of rich functionality, intuitive ease of use, and affordability needed to enable rapid and complete documentation with a minimum of cost and disruption. Now in its 11th year of development and in use by thousands of physicians in a variety of medical specialties, SpringCharts products provide complete EHR solutions for independent medical offices.
About InfoGard Laboratories (http://www.infogard.com)
InfoGard has been instrumental in developing a number of government and private sector test and certification programs, including NIST's Cryptographic Module Validation Program, programs for postage metering systems in five western countries, and two programs for the payment card industry. InfoGard is also an accredited Common Criteria laboratory. This experienced has provided InfoGard the ability to collaborate successfully with many different organizations in the development of IT testing and certification programs. InfoGard is independent, self-funded and employee owned.
SpringCharts® EHR 2011, Beyond Certification Easiest... Best Financials™
###