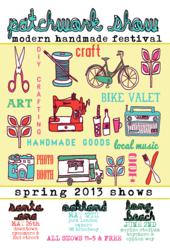 "Oakland is similar to our Southern California locations with its' strong small business and art community. Adding Oakland to our venues was such a natural choice," says Nicole Stevenson.
California (PRWEB) May 09, 2013
The popular Southern California modern handmade festival, Patchwork is returning for its 7th year with two Southern California shows and one Northern California event.
Patchwork is the creation of Delilah Snell (master food preserver/owner of the eco-boutique The Road Less Traveled Store) and Nicole Stevenson (owner/designer of Random Nicole and craft instructor). The two native Orange County women sought to celebrate local handmade goods and provide a venue for attendees to sell and shop for unique goods.
The aunt-and-niece team also produces Craftcation, an annual four-day small business and hands-on DIY conference in Ventura, Ca. The 360-person conference that just wrapped in March was the first of its kind in Southern California. This beachfront conference features panel discussions and DIY workshops with leading industry professionals on art, craft and food-centered small business along with social and networking activities. Taking their knowledge gained from Craftcation, many attendees take part as vendors in the Patchwork festivals.
Starting in 2007 with only 25 vendors in their first shows in Santa Ana's museum district, the events now attract thousands of people with more than 100 vendors at each location. When Stevenson relocated to the Bay Area, the duo knew Patchwork needed to hit the road as well, and Oakland was a perfect fit.
"Oakland is similar to our Southern California locations with its strong small business and art community. Adding Oakland to our venues was such a natural choice," says Nicole Stevenson.
Attendees at any Patchwork event can peruse and shop at booths brimming with handmade goods from over 100 local independent artists and crafters. These makers showcases clothing, accessories, home goods, ceramics, art, jewelry, bath and body items, craft kits/patterns, paper goods/stationary and more.
Each Patchwork location offers a varied selection of local modern eats from distinctive food trucks, popular neighborhood cafes/restaurants and food artisans. Guests are encouraged to ride to the shows and check in bicycles at the bike valet booths. Snell and Stevenson's commitment the environment is reflected in the abundance of vendors featuring recycled, green and organic items. Patchwork doesn't just encourage attendees to shop but also to make something themselves at their DIY craft booths where adults and kids can learn new skills and create on the spot. Each event also highlights emerging music, providing a venue for local bands and DJ's.
"What started out as a craft fair is now a great networking event for businesses and artists as well as the customers," says Snell. "People are making connections in their community and stores are starting to look at the event as a way to scout interesting products for their stores."
Here are the details of the upcoming Patchwork shows and the best part is admission is free:
EVENT DETAILS:
Oakland: Sunday, May 12th, 2013 * 11-5pm * Jack London Square * 98 Broadway
Santa Ana: Sunday, May 26th, 2013 * 11-5pm * Downtown * 2nd & Sycamore Street
Long Beach: Sunday, June 2nd, 2013 * 11-5pm * Marine Stadium * Bayshore @ Appian Way
XXX
Patchwork Show is a bi-annual, modern handmade festival showcasing local emerging artists, crafters & designers. With products ranging across the board, each event celebrates handmade and regional producers—90% of the vendors at our shows are from the immediate region, and 99% within the same state. Patchwork also highlights local food producers, musicians and voices in the handmade movement with interactive programming, book signings and discussions at each festival. Each event aims to connect makers directly to consumers, educate the public on the art of making and creating and to foster a stronger, more sustainable local economy. The festivals embrace a sincere and authentic community marketplace giving startups and micro-businesses a chance to engage and succeed.