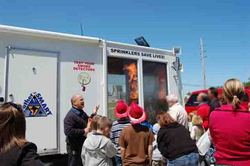 As supporters of the Home Fire Sprinkler Coalition's message, we are debunking many of the myths surrounding these systems
Mount Pleasant, PA (Vocus) July 16, 2010
The Bell family watched in horror as their home was completely destroyed by fire a little more than one year ago. Instead of living in fear, the family took steps to eliminate this from ever happening again.
After feeling protected in a sprinkler-equipped hotel room for 5 days, the family decided to contact the Home Fire Sprinkler Coalition about getting a sprinkler system installed in their home that was being re-built.
By having installed the area's first ever residential sprinkler system in just one day, the family was not only able to better protect their home, but also they awarded area fire fighters the opportunity to learn about these systems first hand.
Communications manager Peg Paul of the Home Fire Sprinkler Coalition took time to educate members from 8 area fire departments about the importance of having sprinkler systems installed in the home. Using Perry Fire Department's Scotty Sprinkler Demonstration trailer, each firefighter witnessed the effectiveness of sprinkler systems.
The combination Sprinkler Demonstration and Fire Safety House trailer was built by Mobile Concepts by Scotty, a Pittsburgh-area specialty trailer and vehicle manufacturer. It is equipped with a burn room that allows operators to show on-lookers how quickly a small fire can escalate and how quickly a sprinkler system can contain and/or extinguish the fire.
Large Lexan windows allow spectators to witness the sprinkler demonstration on the exterior of either side of the vehicle. Classroom and/or fire safety house features are located on the interior to allow for further explanation and education classes for the public.
"As supporters of the Home Fire Sprinkler Coalition's message, we are debunking many of the myths surrounding these systems," stated Anne Degre, president of Mobile Concepts.
"The sprinkler education program can be compared to the smoke detector educational programs of the 1970s. People did not know what they were, and the rumors about them were running rampant. The only way to raise awareness is through public education."
MYTH- Hollywood movies accurately portray sprinkler systems.
FACT- What you see in movies pertaining to sprinkler systems is just special effects.
Only the sprinkler closest to the heat is designed to go off during the fire, eliminating excess water in additional areas. High-heat sensitive "caps" hold the sprinkler head recessed into the ceiling, only releasing when the fire's temperature is high enough to melt the cap-to-ceiling adhesion allowing the head to drop and release a flow of water to contain the flames.
Visit http://www.MobileConcepts.com to learn more about their Sprinkler Demonstration Trailers and for links pertaining to the home fire sprinkler initiative.
Video footage available upon request.
# # #