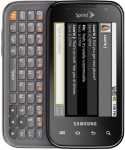 Cellphone Repair Shop has added the Sprint Transform Samsung SPH-M920 to their line of replacement parts.
(PRWEB) May 22, 2012
Cellphone-Repair-Shop.com proudly announces its newest cellphone repair parts addition for Samsung manufactured phones. The company welcomes Sprint Transform repair parts to its inventory of thousands more parts across a broad range of cellular phone manufacturers.
Customers can have confidence that Cellphone Repair Shop will have a variety of Samsung SPH-M920 Transform repair parts in stock and ready to ship when they need them most. By using the website, customers across the nation can order the repair parts they need and have them shipped directly to their door step.
The site provides easy navigation and leads customers directly to the parts they need. The Sprint Transform repair parts section is updated regularly to include the latest in availability from the company. Some of the spare parts now available at cellphone-repair-shop.com include the Sprint Transform LCD Screen and Touch Panel Window, Samsung M920 Main Flexible Ribbon Cable, Samsung Transform Earpiece Speaker, Microphone and Camera with Flex Cable and a replacement middle housing with sliding mechanism. These along with many other Sprint Transform repair parts are available for nationwide shipping with amazingly low expedited FedEx shipping prices.
All repair parts on the company website are guaranteed to be the highest quality on the market. Cell Phone Repair Shop ensures cellphone part longevity and consistency by thoroughly testing all parts. This guarantee has built a strong tie between the company and their solid customer base.
Customers looking for a variety of Sprint Transform M920 repair parts for DIY Do-it-Yourself cell phone repair can visit: http://www.cellphone-repair-shop.com/samsung-sph-m920-transform-parts/
About The Company:
Cellphone Repair Shop is the largest national cell phone repair center in the United States. The company's national cellular phone repair facility and parts distribution center is located in California and provides services locally, online and nationwide through the website. Cellphone Repair Shop carries the largest inventory of replacement cell phone parts for most brands such as Apple, Blackberry, Garmin, HTC, Huawei, Kyocera, LG, Motorola, Nokia, Palm, Pantech, Samsung, Sharp, Sidekick and Sony, but they are especially popular for all their original Sprint Transform cell phone repair parts and services.
Contact:
For more information about cell phone repair services and replacement parts and accessories available at Cell Phone Repair Shop call 877-288-4488 or visit Cellphone Repair Shop
Be sure to follow Cellphone Repair Shop on Facebook, Twitter and YouTube to receive discount coupons, product offerings, promotional offers and new product announcements.