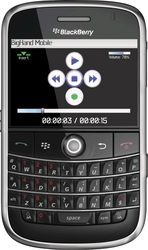 Chicago, IL (PRWEB) May 11, 2009
BigHand, the leading voice productivity application in the professional services community, has been certified through the industry-leading Sprint Smartphone Certification Program to work on Sprint networks.
BigHand software allows professionals to record, edit and send voice files or verbal tasks to office based support, or access outsourced business services. Voice tasks, instructions and dictations sent on-the-go via BigHand then instantly enter the office workflow, and are tracked via status updates, priorities and alerts. Overall BigHand helps users get more work done, expedites the document production process, reduces support costs and improves client service.
BigHand, Inc. is a member of the Sprint Smartphone Certification Program, which provides Smartphone-focused independent software developers access to the application certification process and exposure for applications, within Sprint as well as externally. The Smartphone Certification Program, a component of Sprint's industry-leading Application Developer Program, allows independent developers to market, as Sprint Compatible, innovative applications that Sprint customers can access through the Internet to do more with their phones, whenever and wherever they go.
Steve Butterworth, President & CEO, BigHand Inc, commented:
"Using BigHand for BlackBerry® smartphones, professionals can use their voice to generate content and get things done while on the move. Many of our clients use it to connect with support staff or verbally delegate work to team members. The way you can then track the live progress of items you have verbally assigned to individuals, all from your Smartphone, also means that it helps busy business people get overall control of their workload and task list. As an Enterprise application the workflow element is a very powerful productivity tool, with over 800 organizations globally now using it to mobilize professionals and manage the productivity of their administrative capacity."
About BigHand
BigHand is based out of Chicago, London, Sydney and Toronto. BigHand is a Microsoft Gold Partner, BlackBerry ISV Partner, and was voted 'Mobile Product of the Year 2008' at the CNet Business Technology Awards. BigHand also won 'Best of Breed System of the Year' at the Legal Technology Awards for 2008. BigHand was additionally nominated in the Sixth Annual Law Technology News (LTN) Awards for 2009 as 'Dictation System of the Year' and 'Mobile Tool of the Year'. Further information is available at http://www.bighand.com.
Contact:
Dan Speed, VP Marketing, BigHand. Tel: +1 312 893 5906
###