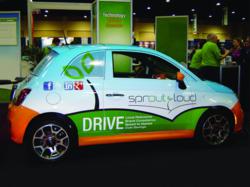 Sunrise, FL (PRWEB) April 26, 2012
SproutLoud, a leading developer of marketing resource management (MRM) technology, today announced the addition of vehicle wraps to its distributed marketing platform. The release of vehicle wraps expands SproutLoud's already considerable array of media options and services, including: email, social media, web pages and microsites, direct mail, outdoor, online store, commercial print and premium items. The company's platform helps brands manage and execute marketing activities with the local companies that sell their products and services.
Vehicle wraps act as mobile billboards, providing thousands of brand impressions daily in traffic, in front of stores, and wherever else company vehicles park in the local markets where their products and services are sold. "We constantly strive to stay on top of the latest media trends that meet our clients' needs and marketing objectives," said Gary Ritkes, Managing Partner, Sales. "We're very excited to increase their media choices with vehicle wraps as part of our corporate strategy of being the most comprehensive distributed marketing platform on the market."
SproutLoud supports vehicle wraps through its vendor network that includes a state of the art 150,000 square foot production facility and a North American network of 3,500 certified technicians for local installation. "Vehicle wraps are an attention grabbing, high impact medium, but it's extremely important for us to be not only to provide the breadth of services that meet each client's unique needs, but to ensure our software makes it easy for local marketers to order and use them. Our vehicle wraps module is designed to do just that," stated Jared Shusterman, Founder and CEO.
For more information, visit http://www.sproutloud.com/master/our-technology/vehicle-graphics
About SproutLoud
Headquartered in Sunrise, FL, SproutLoud helps brands manage and execute marketing programs with the local businesses that sell their products and services. Their web-based distributed marketing platform provides marketing services and tools in an easy to use interface, enabling local business marketers to access the materials they need in the media of their choice, customize them, and reach their target audience with brand-controlled messaging.
SproutLoud's marketing resource management solutions adapt easily for agencies and any distributed marketing network, including franchises, retail locations, dealer networks, VAR Programs, field employees/offices, and affiliates. Their platform