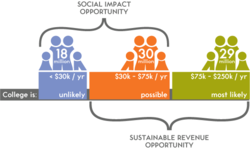 Friends and family are willing to give children financial gifts for college that far exceed what they would ordinarily spend on toys or gifts.
San Francisco, CA (PRWEB) January 16, 2013
Spud Flower, a new social venture, allows family and friends to make secure, no-fee contributions to college savings accounts.
With Spud Flower, parents setup a profile for each child and create campaigns to share with family and friends.
A recently completed pilot of Spud Flower's service raised an average of nearly $500 per child for their birthdays. "Our research found that friends and family are willing to give a child a financial gift for college that far exceeds what they would ordinarily spend on toys or gifts. And our pilot proved this to be true," says Spud Flower's co-founder, Steven Tiell.
The key to unlocking this crowd funding potential is ensuring that funds go to an account in the child's name. Through partners, Spud Flower is able to offer this guarantee in a highly secure fashion. Illustrating the impact this can have, a study from Washington University's school of Social Work found that children in families with a college savings account are 4 times more likely to attend college and 7 times more likely if the account is in the child's name – regardless of the value of the account.
College costs at public institutions are due to increase 8.5 percent this year, making 2013 the 27th consecutive year tuition increases have outpaced inflation. Estimates suggest that a child born today will pay nearly $250,000 for an undergraduate degree at a 'best value' public institution. The educational divide is here and Spud Flower offers an effective way to address growing inequalities.
Spud Flower is committed to serving its social mission of improving generational economic mobility for our nation's youth. To ensure every family can benefit, all users can make financial contributions for free. Instead of charging for this core service like its competitors, Spud Flower earns revenue from selling educational toys and offering nearly two dozen premium services.
To finish building its platform, Spud Flower has launched a crowd funding campaign with a goal to raise $50,000 for development costs. Contributions can be made at http://indiegogo.com/spudflower
---------------------------------------------
Spud Flower is a social venture founded in December 2011 and is a registered corporation in Delaware with operations in San Francisco, CA. Spud Flower evolves the way families save for college by making it inviting and fun to ask for and receive financial gifts.