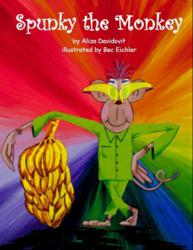 "Always be honest in all you pursue, so YOU will always be proud of YOU!"
New York, NY (PRWEB) November 20, 2012
WHAT: Journalist gives birth to a monkey and reintroduces rhyme and morals into children's books in: "Spunky the Monkey: The Animate Kingdom."
WHO: Journalist Aliza D, and Montreal pop artist Bec Eichler join together and create the most colorful and spirited monkey the children's publishing world has ever seen—Spunky! And if he looks nothing like his mothers, he sure takes after them in verve, chutzpah and, of course, spunk as he pursues his wish and learns important lessons along the way. "I feel like Spunky is my baby because he came straight from my soul and from my astrological sign in the Chinese horoscope," Aliza says.
WHY: Aliza, who today interviews the who's who, began her writing career in rhyme. She always felt that the rhythmic and musical nature of the format lent to the entertainment value of storytelling, especially for children. In addition, because of the mnemonic benefits of rhymes, children will remember the lessons they learn in "Spunky the Monkey: The Animate Kingdom" for the rest of their lives: "True success comes with failing and trying/ It has no place for cheating or lying/ Always be honest in all you pursue/ So YOU will always be proud of YOU…."
Bec, the artist, whose style been called a mix between Peter Max and Leroy Neiman, believes in the bold use of color, especially in children's artwork. "Today's children's books use a lot of pastel colors, but life is dreary enough already," she says. "A child's world should be filled with splendorous bright colors that stretch the imagination." The only time Bec mutes her colors is when Spunky is punished for his misbehavior.
WHERE: "Spunky the Monkey: The Animate Kingdom" was just released on November 9, 2012 and is available on Amazon and http://www.Davidovit.com
Contact: info(at)davidovit.com