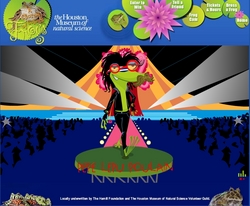 We had to entertain, educate and engage a specific audience, and, at the same time, drive ticket sales
Houston, TX (PRWEB) February 23, 2008
Spur Digital, a leading interactive marketing agency recently landed national attention when its innovative marketing campaign for the Houston Museum of Natural Science (HMNS) was featured on the cover of PR Week (Dec. 17), the leading national trade magazine for the PR industry.
Spur Digital's CEO Steve Latham said the interactive agency was challenged to create something fun, light and out of the box to promote the HMNS traveling exhibit, Frogs! A Chorus of Colors to kids, families and young adults. "We had to entertain, educate and engage a specific audience, and, at the same time, drive ticket sales," Latham said.
Spur's solution was to create as an interactive micro-site, FrogsAtHMNS.com, which allowed interaction with the exhibit in a variety of ways. A live "Frog Cam" let visitors watch live tadpoles develop into frogs 24/7. Even more irresistible was "Project Frogway," which let viewers dress viral frogs in outfits and accessories ranging from "hip hop" to "fashionista." They then named their own frog, watched it strut its stuff on the runway and got to send an e-postcard inviting their friends to view it. The e-postcard included a link to the micro-site, and it served as the viral backbone of the promotion.
"We feel the 'Frogs!' interactive micro-site is some of our best creative work yet, and its viral component not only raises the bar for regionally-targeted interactive campaigns, but also serves well for any national campaign with similar objectives. As PR Week noted, we were able to 'avoid using more traditional (and more expensive) advertising methods and media and keep costs within the range of a local marketing budget'," Latham said.
PR Week further cited Spur's "progressive thinking and success with the campaign as not only helping brand the Museum as innovative, creative leaders for using interactive media, but helping further shift the Museum's marketing focus toward the internet."
"It's great to work with clients like HMNS that appreciate the importance of customer interaction and brand engagement, and how they ultimately lead to higher attendance, revenue and ROI," Latham said.
The "Frogs!" campaign had tremendous success, with 12.5 million impressions and 85,000 site visits, many of which translated into the 10,000 online ticket translations, not to mention tickets sold at the museum.
FrogsAtHMNS.com is just one of a series of exhibit micro-sites designed, marketed and managed by Spur Digital. Other interactive campaigns receiving national attention include My76Video.com, which features a video sharing, viewing and voting campaign and YourBTSLook.com, patterned after a MySpace profile page to attract and engage back-to-school shoppers for Stage Stores. The Stage Stores site was featured in the October 2007 issue of Stores, a national retail magazine.
About Spur Digital:
Spur Digital is a strategic brand engagement agency that serves companies ranging in size from mid-market challengers to global leaders. Spur Digital has helped major brands including ConocoPhillips, FedEx Kinkos, and Southwest Airlines use new media to reach and engage their consumers more effectively. Spur Digital leverages its proprietary analytics and in-depth understanding of online media, social media, search, mobile and email to develop integrated campaigns that deliver better results for strategic business initiatives. A 2007 FastTech 50 winner, Spur Digital has enjoyed double-digit growth since its founding in 2004. Visit http://www.spurdigital.com for more information.
About Frogs! A Chorus of Colors:
Created by Clyde Peeling's Reptiland of Allenwood, Pennsylvania, Frogs! A Chorus of Colors explores frog biology, natural history, their role in human cultures, their importance to ecosystems, and the perils they face in a changing environment. Frogs! A Chorus of Colors is underwritten locally by The Hamill Foundation and The Houston Museum of Natural Science Volunteer Guild. "The Toadally Awesome Giveaway" is sponsored by Amazón Grill. Visit http://www.FrogsAtHMNS.com for more information.
About The Houston Museum of Natural Science:
The Houston Museum of Natural Science is one of the nation's most heavily attended museums and is a centerpiece of the Houston Museum District. With four floors of permanent exhibit halls, and the Wortham IMAX® Theatre, Cockrell Butterfly Center, Burke Baker Planetarium and George Observatory and as host to world-class and ever-changing touring exhibitions, the Museum has something to delight every age group. With such diverse and extraordinary offerings, a trip to the Houston Museum of Natural Science, located at One Hermann Circle Drive in the heart of the Museum District, is always an adventure. See http://www.hmns.org for more information.
###