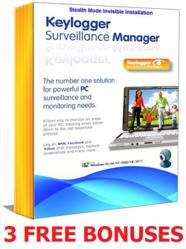 The Latest Buzz. Invisible PC Spy Software Which Tracks All PC Activity
Liverpool, England (PRWEB UK) 14 September 2011
Keylogger software usage is on the rise worldwide as Keylogger Surveillance Manager emerges, making a huge impact in the surveillance market.
Parents who want to check on their kids, people who want to ensure that their partners are loyal, and employers who want to make sure that their employees are fulfilling their work duties are all making use of this program to monitor PC related activity in a discreet manner. This new software has emerged as the best keylogger software in the industry.
The manufacturer of this software, KeyloggerSurveillance.com, report that the product "Keylogger Surveillance Manager" is already a big hit among those who are longing for the perfect solution to cure their suspicions.
A spokesperson for the company said, "Recent statistics show children are increasingly at risk when online and partners are widely using the Internet to lead a double life". All these factors have increased awareness amongst computer users, with spy software considered to be a key aspect of PC security".
Keylogger Surveillance Manager allows anyone to monitor a plethora of activities on their own PC without having to employ traditional visual surveillance techniques. Even when absent from the PC under surveillance, all PC activity can still be thoroughly monitored.
Parents, partners and business men who want to make sure that the Internet and its power are not abused swear by this keylogger software. To spy on PC activity, this software is available as a keystroke logger but it monitors much more than just key strokes. This innovative program exposes all visited websites, chat messages, webcam activities, email messages and applications used. The biggest benefit is that it operates in stealth mode and no one knows that it is actually running in the background. Only the user of the software can view the log files which are secured using a secret password known only to the owner. Conveniently, log files can be viewed directly on the same PC or via reports to a remote email account of the users' choice.
The company spokesperson later added, "Our spy software is increasingly being used by parents to ensure the safety of their kids online, by partners to catch unfaithful people as well as by business owners to make sure that their employees don't waste their productive time. Our customers contact us frequently, thanking us for helping them to tackle difficult subjects more easily".
There is no need to employ any private investigation company as the software will do all the spying. Unlike other keylogger software, it even comes with bonus books covering child safety online, and PC safety explained. This program, loaded with features, is a complete PC surveillance package for home and business, which is set to maintain top position for some time to come.
http://www.keyloggersurveillance.com
###