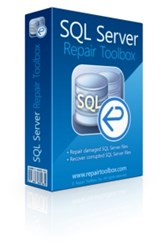 SQL Server Repair Toolbox, an ultimate SQL Server database repair solution.
Sacramento, CA (PRWEB) June 20, 2013
Repair Toolbox, a company known for its line of compact, intuitive and outstandingly efficient file repair and data recovery tools, releases SQL Server Repair Toolbox, the most powerful SQL Server database repair solution on today's market. The new version of the product is based on a brand-new data recovery engine that uses several algorithms and multi-pass file processing to recover as much data as possible. The program does not modify the damaged source MDF file in any way, allowing the user to resort to any alternative methods of MDF recovery. The authors of the program used an intuitive step-by-step wizard as the basis of the program's UI to facilitate the SQL recovery process. This SQL Server database repair tool works with *.mdf and *.ndf and files saved in MS SQL Server 7, MS SQL Server 2000, MS SQL Server 2005, MS SQL Server 2008 and MS SQL Server 2008 R2. The software restores recoverable data and saves them in the form of SQL scripts on the user's hard drive or directly to MS SQL Server. SQL Server Repair Toolbox is capable of recovering table data, data types, views, stored procedures, functions, triggers, indexes, primary and foreign keys, links and other database items.
"We are glad to present one of the fastest and most convenient solutions for efficient data recovery from corrupted MS SQL database files. We've done a lot of work to boost the performance of this tool and hope that our customers will truly appreciate its ability to recover data even in the most serious data corruption cases," explained Ivan Bobrov, Senior Product Manager at Repair Toolbox.