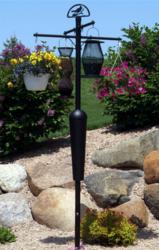 I've found a device that keeps squirrels and raccoons from raiding your bird feeders that looks good, is easy to assemble, and will last for years. -Nancy Szerlag, Detroit News Gardening Columnist
Grand Rapids, MI (PRWEB) December 09, 2011
The Wall Street Journal recently reported that U.S. average income has dropped for three years in a row. This holiday season, Yahoo Finance suggests gifts that save money and are practical. Kiplinger recommends gifts that keep on giving. In the current economic climate, Americans are spending their hard-earned cash on products that save cash down the road. The Squirrel Stopper will not only save bird lovers money this holiday season, but also for many seasons to come.
53,000,000 people in America regularly put bird seed into bird feeders, and then watch as squirrels and raccoons eat most of it. This is an aggravating loss of time, money, and bird watching enjoyment. Over the past 75 years, countless inventions have attempted to solve this problem. But none have succeeded; until now. Over 27,000 Squirrel Stoppers have been sold in 49 states, and not one squirrel or raccoon has beaten the patented baffle. But not for lack of effort. Squirrels will study it, plan a strategy, attack it, and fail. And quickly they give up; every time.
"People buy products for a variety of reasons," states inventor Dr. Kim Sena. "But in today's financial environment, they are really watching what they spend. Many buyers feel better about purchasing a product that pays for itself over a period of time. A raccoon or a colony of squirrels can go through $40 worth of bird seed in a weekend. And consumers also lose money and time on repeated trips to the store to buy seed, and the time it takes to continuously refill their feeders."
How the Squirrel Stopper System Works
The secret is the free-floating baffle. Previous unsuccessful products had baffles that only move from side to side. The Squirrel Stopper baffle moves side to side and also up and down by way of three stainless steel springs. The squirrel (or raccoon) leaps up to the baffle and attempts to grab on, which is very difficult because the surface is smooth and is shaped like an inverted cone. The critter's weight works against him as gravity pulls him down. If he somehow manages to grab hold, the baffle whips down and shakes him off. No other product has this patented vertical movement, and this is why the Squirrel Stopper is 100% effective. But don't worry about the squirrels. They have plenty of food over at the neighbor's house.
The Squirrel Stopper apparatus is able to be assembled and installed in about 5 minutes. The lower post segment has an auger that twists easily into any type of soil (even the rocky soil in New England). The remaining segments simply twist and lock in place. No tools or shovel are needed! It is made of durable 16 gauge tubular steel, has a black or white powder coat finish, and accommodates up to 8 bird feeders, hanging plants, or other garden accents (each weighing up to 20 lbs.). It is totally safe (but frustrating) for squirrels and other critters, and provides hours and hours of bird and squirrel-watching entertainment!
The Squirrel Stopper Bird Feeder Post Assembly can be purchased for $140.00 online at http://www.worksgreat.net. More information, testimonials, and a 2-minute video can be seen at http://www.squirrelstopper.com.
###