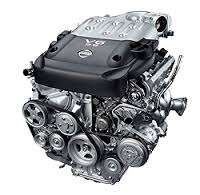 This RS engine type is in preowned condition and is now priced more affordable.
Beaumont, TX (PRWEB) April 15, 2013
Nissan is known around the world for its passenger cars and luxury editions. The performance lineup sold by this company has been able to compete with other automakers due in part to the engine development. The JDMMotorsforSale.com company is now stocking the SR20DET motor for online sale to buyers. This SR engine type is in preowned condition and is now priced more affordable at http://www.jdmmotorsforsale.com/jdm-motors/sr20det-sale.
Both performance and turbo engines have been created by Nissan since 1989. The upward trend in performance engine technology has helped break new ground for many import automakers in the U.S. market.
While preowned engine pricing can vary, buyers typically choose replacement motors within a specific mileage range to ensure maximum value. The used units that are now sold to JDM buyers online are within lower mileage ranges compared to auction based used engine inventories.
The JDMMotorsforSale.com company has expanded the import types placed into the company warehouse this year. Apart from the Nissan additions, Honda and Toyota engines have been added in various sizes in an effort now underway to create better engine resources for JDM customers. New acquisitions and inventory turnover have helped this company increase its sales in 2013.
The recent design and coding placed on the company website is now generating easier access to immediate pricing. The new company search tool is linked directly to the database instead of a published price list that can be quickly outdated. This new way to allow customers to search for multiple prices online is now one advantage this company has compared to secondary market sellers using a traditional system to provide quotations.
About JDMMotorsforSale.com
The JDMMotorsforSale.com company represents one of the largest JDM engine dealers in North America. The sales to salvage dealers, junkyards, mechanics, vehicle owners and other buyers have helped this company grow since its online existence started in 2009. The online advancements made by this company this year has made it simpler and faster for engine sales to be completed. The JDMMotorsforSale.com website now provides immediate shipment terms as well as warranty information to help those performing research make a decision faster when browsing the low mileage inventory offered for sale.