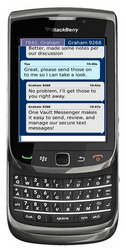 One Vault Messenger completes the BlackBerry encryption puzzle when used in conjunction with SRA One Vault Voice - which encrypts voice communication - and RIM's built-in e-mail encryption.
Fairfax, VA (PRWEB) March 9, 2011 —
SRA International, Inc. (NYSE: SRX), a leading provider of technology and strategic consulting services and solutions to government organizations and commercial clients, today announced that news outlet CRN.com recently named SRA One Vault Messenger™ a "head-turning" security product at last month's RSA cyber security Conference 2011, the biggest information security show in the U.S.
SRA One Vault Messenger is an encryption solution for Short Message Service (SMS) transmissions (text messages) for BlackBerry smartphones. The product is a new addition to the SRA One Vault™ suite of products, which was released in 2010 as the first and only hardware-anchored voice security solution for an off-the-shelf BlackBerry.
According to CRN's Feb. 17 article on "25 Head-Turning Security Products," One Vault Messenger completes the BlackBerry encryption puzzle when used in conjunction with SRA One Vault Voice -- which encrypts voice communication -- and RIM's built-in e-mail encryption.
Designed for executives, first responders and government agencies that currently 'text in the clear', One Vault Messenger features an intuitive interface and leverages technology from Koolspan – the developers of a tamper-resistant microSD encryption card (TrustChip) – to defend against unwanted surveillance and cyber hacking.
One Vault Messenger will be available in Spring 2011, and can be delivered through a hosted environment or a private offering. Additional information can be found at sra.com/one-vault-voice/.
About SRA International, Inc.
SRA and its subsidiaries are dedicated to solving complex problems of global significance for government organizations and commercial clients serving the national security, civil government and global health markets. Founded in 1978, the company and its subsidiaries have expertise in such areas as air surveillance and air traffic management; contract research organization (CRO) services; cyber security; disaster response planning; enterprise resource planning; environmental strategies; IT systems, infrastructure and managed services; learning technologies; logistics; public health preparedness; public safety; strategic management consulting; systems engineering; and wireless integration.
SRA and its subsidiaries employ more than 7,300 employees serving clients from its headquarters in Fairfax, Va., and offices around the world. For additional information on SRA, please visit sra.com.
Any statements in this press release about future expectations, plans, and prospects for SRA, including statements about the estimated value of the contract and work to be performed, and other statements containing the words "estimates," "believes," "anticipates," "plans," "expects," "will," and similar expressions, constitute forward-looking statements within the meaning of The Private Securities Litigation Reform Act of 1995. Factors or risks that could cause our actual results to differ materially from the results we anticipate include, but are not limited to: (i) entry into new markets; (ii) security threats, attacks or other disruptions on our information infrastructure, and failure to comply with complex network security and data privacy legal and contractual obligations or to protect sensitive information; (iii) continuing development and reseller agreements for third party technology used in our products; (iv) difficulties accurately estimating contract costs and contract performance requirements; and (v) adverse impact on employee and customer relations from media speculation regarding the company and its future ownership and operations.
Actual results may differ materially from those indicated by such forward-looking statements. In addition, the forward-looking statements included in this press release represent our views as of March 9, 2011. We anticipate that subsequent events and developments will cause our views to change. However, while we may elect to update these forward-looking statements at some point in the future, we specifically disclaim any obligation to do so. These forward-looking statements should not be relied upon as representing our views as of any date subsequent to March 9, 2011.
###