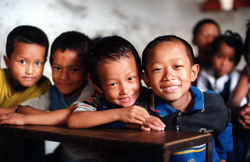 The International Labor Organization (a United Nations agency) estimates that 1.2 million children are illegally sold into servitude every year
New York, New York (PRWEB) September 9, 2008
Pioneering carpet designer, Odegard Inc., announces today it has selected RSF Social Finance, a socially responsible, nonprofit financial services organization dedicated to unlocking the potential for joy, connection and meaningful impact that money holds, as lender.
The partnership will provide Odegard Inc. with a significant RSF Social Finance working capital loan -- enabling domestic and international expansion and allowing Odegard to further its mission to eliminate the use of illegal child labor in the carpet industry of Nepal.
"The International Labor Organization (a United Nations agency) estimates that 1.2 million children are illegally sold into servitude every year," stated Shobna Dhewant, Lending Manager at RSF Social Finance. "We at RSF are proud to join Odegard in its unwavering commitment to address and curtail the tragic epidemic of child labor in the carpet industry."
A long-time leader in social enterprise, Odegard Inc. was founded in 1987 by children's rights activist and renowned carpet designer Stephanie Odegard to marry the interests of the upscale designer carpet market with the age-old tradition of hand knotted carpet weaving.
Today, Odegard Inc. markets its luxury hand knotted carpets worldwide through seven showrooms and more than seventy dealers -- its manufacturing has helped restore local communities both economically and socially by providing employment to more than 10,000 craftspeople in Nepal. Each Odegard carpet bears the Rugmark label which is the only recognized certification program to insure that carpets are made free of child labor; funds are used for education and welfare of rescued children.
"RSF Social Finance understands and supports the work that Odegard has been doing for the past twenty years," said Stephanie Odegard, Founder and President of Odegard Inc. "I began my company with a commitment and belief in the same ideals on which RSF was founded -- a commitment to better the lives of people in developing countries and a belief that fair business practices can improve economic, social, and environmental conditions."
About Odegard Inc.
Odegard Inc.'s pioneering designs and socially responsible practices have introduced a new genre of hand knotted product to the luxury market -- a product that invigorates and challenges the market while sustaining the artisans and local communities responsible for production. Founder Stephanie Odegard is a Director of RugMark Foundation and its fight to end illegal child labor in the carpet industry worldwide; Odegard Inc. is the largest U.S. contributor to RugMark.
Stephanie Odegard was named a 2004 "Giant of Design" by House Beautiful Magazine and has received the National Peace Corps Association 2001 Business Symposium Award for Entrepreneurship, the 2004 Aid to Artisans Award for Innovation in Craft and the International Leadership Institute 2008 International Citizen Award.
About RSF Social Finance
RSF Social Finance is a nonprofit financial services organization at the center of a growing movement to create a network of place-based, local economies that value human beings and the environment. Inspired by the work of Rudolf Steiner, RSF provides capital for innovations in sustainable food & agriculture, education & the arts, and ecological stewardship, and has made over $145 million in loans and over $65 million in grants since 1984. Through lending, giving, and investing services, RSF helps its clients and partners unlock the potential for joy, connection and meaningful impact that money holds.
###