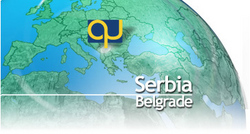 We were able to leverage our previous worldwide experience with regulatory SS7 approvals to insure the SS7 interconnect to Telekom Srbija was provided quickly and without issue. We look forward to working with InfoTel in the future
Dorchester, Dorset (PRWEB) October 29, 2009
Internet telephony service provider InfoTel, Serbia a division of Informatika A.D., deploy Squire Technologies' cost effective SS7 interconnect solution for connection to primary incumbent Telekom Srbija.
Regulated by RATEL, Serbia's telecommunications market requires all service providers to comply with the regulatory body for connection to the PSTN, and international standards of ITU and ETSI. Seeking to extend its market share and to capitalize on the increased demand with the opening up of the Balkans telecoms sector, InfoTel like many other telecoms providers were legally required to have an SS7 interconnect.
View full SS7 interconnect story - Click here
Squire Technologies' software-only SS7 Media Gateway Controller solution, allowed InfoTel to use their existing Regulatory approved Cisco Media Gateways to enable the SS7 interconnect.
"A swift webex demonstration of the product and an explanation of the media and signaling flow, confirmed the suitability with our existing Cisco media gateways and softswitch, furthermore Squire Technologies' excellent support and deployment team quickly established our physical SS7 connection with Telekom Srbija," Stanko Radovanovic, VoIP Development Manager - InfoTel, Informatika A.D., Serbia.
"We were able to leverage our previous worldwide experience with regulatory SS7 approvals to insure the SS7 interconnect to Telekom Srbija was provided quickly and without issue. We look forward to working with InfoTel in the future," Andrew Cooper, Managing Director, Squire Technologies.
Squire Technologies offer a 'Pay As You Go' plan available on the SoftSwitch and Media Gateway Controller products. This allows clients to spread the product payments over 6 to 12 months reducing the upfront investment costs and allowing the spread of payments to match the delivery of the clients service.
For a complete list of features and specifications as well as solutions for ISPs, carriers and service providers contact the SS7 VoIP experts.
t: +44 1305 757314
w: http://www.squire-technologies.co.uk
###