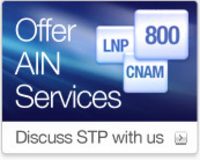 "We work closely with our clients on their existing infrastructure to deliver the future of our industry today" Joe Williamson, Sales Manager Americas
(PRWEB) March 4, 2011
CLECs (Competitive Local Exchange Carriers) and ICPs (Integrated Communication Providers) stand to benefit substantially by centralizing multiple carrier signaling termination via an STP solution. Such 'Signaling Aggregation' allows providers to manage signaling from one central point and saves them from establishing and managing multiple POP (Point Of Presence) connections, translating into cost savings and Reduced Operational Expenditure. Once centralized, this opens a new range of secondary opportunities to streamline AIN services.
Access to the SS7 Advanced Intelligent Network (AIN) delivers beneficial services such as Caller Name ID CNAM, LNP (Local Number Portability) & 800, and is essential to generating revenues. Yet providers are spending significant amounts of money through the rental charges and extra 'dipping fees' they pay the major carriers such as TNSi, AT&T, Verizon and T-Mobile. With a centralized STP controlling the signaling, 'inline dipping' of AIN services enables previously unsupported switches to access CNAM and LNP dips directly from the providers network at significantly reduced rates.
Squire Technologies' SVI-STP Signaling Transfer Point, allows operators to deploy 'signaling aggregation', manage a single SS7 interconnect and enables the provision of 'inline dipping' with obvious cost savings as well accelerating future network development.
Joe Williamson, Sales Manager, Americas, Squire Technologies, "We work closely with our clients on their existing infrastructure to deliver the future of our industry today, ensuring a significant Return On Investment (ROI) for our customers and maximising the value of our products and services throughout the US."
Squire Technologies - http://www.squire-technologies.com
Squire Technologies provides leading edge NGN and TDM telecommunication products and solutions with world-class installation and support services to deliver carrier grade products worldwide. Supporting high availability, scalability with a fully featured management system, catering for both small interconnect up to large international points of presence.
To implement SS7 consolidation as part of your strategy, Ask The Experts at Squire Technologies.
Joe Williamson, Sales Manager, Americas, Squire Technologies
US Direct +1 650 870 1107
UK Direct +44 (0)330 2020 488
UK Office +44 1305 757314
enquiries(at)squire-technologies(dot)com
http://www.squire-technologies.com
###