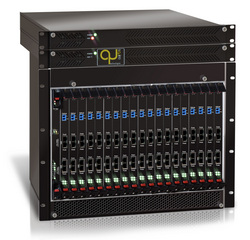 Dorchester, UK (PRWEB) March 1, 2009
"What was important to us was to convert our SS7 protocols to ISDN at an affordable price allowing us to provide our clients with the low cost call benefits, but also to insure that the end-to-end digital service included seamless integration between networks of digital services like Caller Identification and Call Forwarding. The Squire Technologies SVI 9225 product allowed us to deliver all these benefits and coupled with their support services allowed us to smoothly integrate this product into our network." - Joe Kimani CEO - Flashcom
SS7 to ISDN Converter
The SVI 9225 SS7 to ISDN PRI Protocol Converter has many uses within the Telecoms network providing a quick and cost effective way of upgrading existing ISDN, R2 and CAS incumbent equipment to support SS7. The SVI 9225 is offered over a range 1000, 2000 and 8000 models to satisfy client's deployment requirements and budget, providing a fully featured, carrier-grade product with a flexible and powerful routing engine.
Simon Dinnage, Business Development Director - Squire Technologies
This was a great opportunity for us to deploy a carrier grade solution in Kenya extending the number of deployments we have in Africa. It clearly shows how the SVI product range allows clients to enhance and extend their existing networks to provide new services without any loss of features when interconnecting SS7, ISDN, R2 and VoIP networks. We look forward to working with Flashcom, Kenya in the future.
Squire Technologies provide a range of SS7 products - protocol converters, gateways and an extensive range of VoIP products - Media Gateways, Media Gateway Controllers and Class 4 SoftSwitch. Together with a dedicated support and installation team, Squire Technologies can provide a complete, end-to-end service with support from pre-sales consultancy to installation to ongoing post-sales support & product development.
###