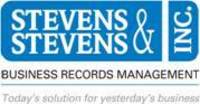 Handling hard copy documents is a major expense for all businesses
Tampa, FL (Vocus) July 16, 2010
With the second half of the year underway, businesses are looking for ways to be more efficient and cost-effective. One local expert, Stevens & Stevens Business Records Management, Inc., says area business owners should look at going digital with their management and storage of hard copy files.
"Handling hard copy documents is a major expense for all businesses," says Rhett Stevens, co-owner of Stevens & Stevens Business Records Management, a full-service records management firm specializing in document imaging. "Time and resources are wasted when trying to find and reproduce paper files. It's so much easier, quicker and cost effective to go digital."
Document imaging converts hard copy files to electronic images. These images then get housed in a secure, content management system, which acts as a virtual file room. "Imaged files reduce company storage space, increase security, help maintain legal requirements and can be invaluable in case of a disaster," added Stevens.
Businesses considering going digital should find a firm that offers a variety of imaging options, including:

Service bureau solution – All aspects of an imaging program are handled by a third party, including document pick-up, scanning, indexing and storage. Images can be retrieved online, through email, CD or DVD.
Enterprise solution – Third parties provide software or hardware to meet a company's needs and the business captures, distributes and manages documents internally.
Back-end solution – A business scans files and a third-party manages the imaged files.
Scan-on-demand solution – Stored documents are scanned on an as-needed basis and the third party makes them available via the web, email, external hard drive, CD or DVD.
"Many business owners assume going digital is costly or time-consuming," said Stevens. "However, with today's technology, it's not the case. Once documents are imaged, you'll have access to your entire file room with just the click of a mouse. Think of how stress-free your day will be, knowing your company's most confidential information is secured through a password protected site, while being available 24 hours, 365 days a year."
Stevens & Stevens Business Records Management is a full-service records storage and management center providing services throughout the Tampa Bay area. For more information, visit http://www.ssbrm.com and follow Stevens & Stevens on Twitter at: http://twitter.com/StevensBRM or on Facebook at: http://facebook.com/ssbrm.
Media Contact:
Beth Kneisler
Leonard & Finco Public Relations
(920) 965-7750
###