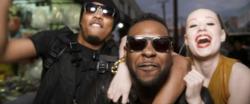 "People often wonder what performers are wearing, where they can purchase that item – we have bridged that gap."
Rami Atallah, SSENSE CEO
Montréal, CA. (PRWEB) April 04, 2012
SSENSE, Canada's largest online luxury apparel and accessory retailer, is preparing for the release of the world's first interactive, fully shoppable music video.
The video premiere of "I Think She Ready" stars up and coming rap star Iggy Azalea – freshly signed to Interscope Records – alongside hip-hop duo FKi and Grammy-nominated producer Diplo in an exclusive video produced for SSENSE.
All performers in the video were styled exclusively by SSENSE, with every item in the video directly shoppable through an interactive hotspot technology. Viewers will have the ability to simply click on an SSENSE hotspot in the video in order to access information on the styles shown. Once a hotspot has been clicked, viewers will be presented with images of the products from that look and a direct link to the item on ssense.com for purchase.
SSENSE CEO Rami Atallah explains, "This is the first time the worlds of music, fashion and commerce have truly overlapped. The integration we are introducing between technology, entertainment and retail with this video not only creates a unique experience for the audience, but also has utility. People often wonder what performers are wearing, where they can purchase that item – we have bridged that gap."
The video's styling blends elements of hip-hop street culture with Spring/Summer 2012 runway trends such as bright, pop colors and animal prints. Numerous designers are featured in "I Think She Ready" including 3.1 Phillip Lim, Christopher Kane, Givenchy, and Preen.
Although still preparing for the release of her first studio album later this year, Azalea has already garnered considerable attention for her fashionable style after releasing a free mixtape and an accompanying series of YouTube videos last autumn. Azalea has been featured in V and Dazed & Confused magazines this past year.
The video for "I Think She Ready" was shot on location in downtown Los Angeles and will exclusively premiere on http://www.ssense.com at 12:00PM EST on April 4, 2012.
LINK TO "I THINK SHE READY" VIDEO:
http://www.ssense.com/video/iggy-azalea-diplo-fki-i-think-she-ready/
(Please note: A countdown page currently exists at this link.)