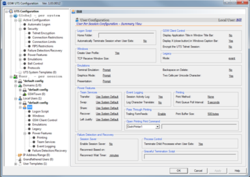 Considering the ease of provisioning, coupled with templates and import and export capabilities, deployment is smooth and fast
Dawsonville, Georgia (PRWEB) August 30, 2011
Georgia SoftWorks announces the release of the GSW SSH Server for Windows with the anticipated SSH Graphical User Interface (GUI) Configuration Tool. Provisioning of the SSH Server is advanced in internal function while simple in user operation. Configurable objects on both a global and per session basis are easily identified and provisioned with the Windows Explorer style tree view SSH GUI Configuration Tool.
Administrators can specify session data for domain and local users. Unique to the GSW GUI Tool is that defaults can be defined for individual domains, all domains, all local users or all users. They can be overridden at any level to provide unparalleled flexibility to the administrator. Configurations can be also specified for connections made on IP Address or IP Address Ranges. The SSH GUI Configuration Tool also provides import and export features.
A feature that is gaining quite a bit of interest is the ability to define configuration templates (or profiles). This allows the administrator to create a variety of configurations and save them for later use. A site with multiple departments such as shipping, receiving, production may have different configurations for mobile device users at each department. Templates are a long sought solution.
"Considering the ease of provisioning, coupled with templates and import and export capabilities, mobile device deployment is smooth and fast," said Brian Butler of Georgia SoftWorks.
Context sensitive help is available by pressing F1 providing access to the relevant information in the GUI Tool.
"Of course some customers prefer the legacy method of provisioning using the registry and environment variables," said Doug Hitchcock of Georgia SoftWorks, "What is great about this feature is that they are free to use either method or even both methods, swapping back and forth as they see fit."
About Georgia SoftWorks
Established in 1991, Georgia SoftWorks is a privately held software development company recognized for creating high performance data communications, system and telecommunication applications.
Georgia SoftWorks has obtained worldwide presence with its industrial SSH/Telnet Server for Microsoft Windows. GSW long-term commitment to SSH/Telnet has led to the pioneering of major features such as Session Shadowing, Session Monitoring, Graceful Termination, Automatic Logon, Logon Scripting and client based session sharing, swapping, transfer and recovery of disconnected sessions. GSW is also well known for the first practical implementation certificate based logon for SSH Server for Windows.
###