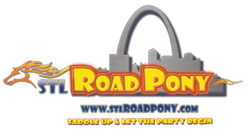 The extensive fleet guarantees there is a STL party bus ready for any sized group.
St. Louis, Mo (PRWEB) September 30, 2013
STL Road Pony is a growing St. Louis party bus rental company that provides the best service and a great atmosphere. St. Louis Party bus rentals are essential for weddings, bachelor and bachelorette parties. Each experience will be unique and unforgettable to each guest. STL party bus rentals are also doing a large amount of trips to the wineries. Ask them about their winery packages.
"We are very excited to announce that we have a new bus in our fleet, said Jim Mohrmann," CEO of STL Road Pony. "The bus is called the Bronco and it has some great new features that we are all excited about. "If you haven't checked STL Road Pony out before, this would be the time to do it as we are starting to get into the busy season, especially around the holidays."
The new bus that STL Road Pony has added to the fleet can hold 32 passengers. The party bus has a built-in bathroom and a dance floor. If you want to watch the game or just check out some music videos, don't worry, because the Bronco has a TV. The whole party bus is equipped with LED lighting and a signature stripper pole. The bus looks to be a great addition to STL Road Pony. Of course, this bus has a great sound system like the others and if a group member would like to DJ, they can bring their iPod.
The extensive fleet guarantees there is a STL party bus ready for any sized group. Anyone looking to book a party bus for an upcoming event should visit stlroadpony.com and fill out their online form or call 888-785-2703.
About STL Road Pony:
STL Road Pony has a wide selection of incredible party buses serving the St. Louis area. The party buses feature all the luxury amenities of a limo, but at affordable prices. The vehicles also come equipped with an amazing sound and light system. If a group member wants to be the DJ for the night, they can bring an iPod or add a DJ to the party for some extra fun.