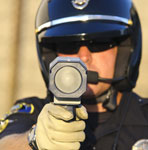 St. Louis, MO (PRWEB) May 25, 2013
Memorial Day weekend often brings an increased level of motor vehicle accidents, many of those resulting from driving while intoxicated. As a result, there is usually increased police activity on the lookout for intoxicated and unsafe motorists as well as writing lots of speeding tickets. Gerry Guerra, an attorney with TrafficLaw.com, which handles speeding tickets and other types of traffic tickets and driving-related offenses, advises motorists to be mindful of their driving and alcohol consumption this weekend for their own safety and the safety of other motorists, as well as avoiding the risk of a ticket or worse. Even a simple speeding ticket can result in points being assessed to the driver's record and increased insurance rates.
Those who do receive a traffic ticket of some type may wish to explore their legal options to maintain a clean driving record. Traffic ticket lawyers are usually able to accomplish this by amending the ticket to a lesser offense that does not involve points on the driver's license. The firm's StLouisSpeedingTicketLawyer.com website provides complete information on the points for each type of traffic ticket and driving infraction. Drivers who receive a DWI or more serious ticket, such as driving while suspended, will wish to consult an attorney to avoid jail time, minimize the much larger fines they are facing as well as reinstate their drivers license as quickly as possible. TrafficLaw.com provides one of the fastest speeding ticket lawyer services at the lowest price available in the metropolitan St. Louis area.
About (888)TRAFFIC, LLC
Gerry Guera and (888)TRAFFIC, LLC provide complete legal services relating to driving, from reducing St. Louis area speeding tickets to representing those injured in a motor vehicle accident. As an experienced attorney, he is able to provide unparalleled legal representation to St. Louis and other Missouri drivers at highly competitive prices. The St. Louis traffic law firm handles speeding tickets, stoplight and stop sign tickets, driving while intoxicated (DWI), driving while suspended and other types of driving infractions. They may be reached at 1-888-TRAFFIC or by visiting the firm's website at http://www.stlouisspeedingticketlawyer.com.