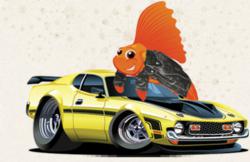 How is it that it's acceptable for Americans to order the Black and Tan drink at bars every day, year-round, if the term is that offensive to Irish?
Los Angeles, CA (PRWEB) March 14, 2012
RoadFish.com men's lifestyle and finance magazine today chimed in on the offensive retail nickname for Nike's St. Patrick's Day themed sneakers.
Nike recently released a black sneaker with a tan leather trim that the company touts as being themed for St. Patrick's Day. The mid-foot colors of black and tan fade into each other and the insole features an image of a beer known by Americans as a "black and tan": a pint composed of half stout beer and half pale ale.
James O'Shea of the Irish Times reports that the original meaning of black and tan comes from the notorious British paramilitary unit called the Royal Irish Constabulary Reserve Force, best known for attacking and killing Irish civilians in the early 1920s during the War of Independence. The brutal British army unit was nicknamed the 'Black and Tans' by the Irish. Black and tan beers are not consumed in Ireland and the term is considered highly disrespectful, in light of the carnage brought about by the troops. O'Shea reports that one Irish-American leader used the analogy, "It would be the American equivalent of calling a sneaker 'the al-Qaeda.'"
As a demonstration of the brutality of the Black and Tans, one of the commanders, Lieutenant Colonel Smyth, gave the following orders to his unit in June of 1920: "Should the order "Hands Up" not be immediately obeyed, shoot and shoot with effect. If the persons approaching (a patrol) carry their hands in their pockets, or are in any way suspicious-looking, shoot them down. You may make mistakes occasionally and innocent persons may be shot, but that cannot be helped, and you are bound to get the right parties some time. The more you shoot, the better I will like you, and I assure you no policeman will get into trouble for shooting any man." The Irish Times article included a quote from Ciaran Staunton, President of the Irish Lobby for Immigration Reform, who stated that the Nike move left him "speechless," and questioned, "Is there no on at Nike able to Google 'Black and Tan'?"
RoadFish.com's Senior staff writer is quoted as saying, "I'm not about offending any body, or adding insult to injury. But how is it that it's acceptable for Americans to order the Black and Tan drink at bars every day, year-round, if the term is that offensive to Irish? Not to mention it leads to the ridiculous misconception that the Irish actually came up with that nickname for half-and-half beers!"
According to a Fox News article, the official name for the new Nike kicks is "Nike SB Dunk Low." Nike claimed that the shoe was "unofficially named by some using a phrase that can be viewed as inappropriate and insensitive." However, the sneakers are designed to feature an insole that flaunts that image of a beer glass with a half-dark, half-light brew, better known to most Americans as the drink Black and Tan. Nike apologized and stated, "No offense was intended."
In 2006, the famous Vermont ice-cream makers, Ben and Jerry, withdrew an ice-cream flavor that they had dubbed 'Black and Tan' when the name offended Irish nationalists.
RoadFish.com feels that with a little historical education, or simply the aid of a search engine, flubs like this could be totally avoided. RoadFish.com's Senior staff writer stated, "All it takes is the head of Nike's marketing department to say, 'hey, where did the term 'Black and Tan' come from? I'll check Wikipedia. Oh, wait, it comes from a vicious paramilitary unit that terrorized Ireland in the '20s? Yeah, let's not use that name to market our shoes.'"
The Irish Times suggests, "Perhaps the intention of US sportswear giant Nike in naming its new runners "The Black and Tan" for St Patrick's Day (Brian Boyd, Home News, March 10th) was simply a tribute to the speed at which this hated murderous militia "ran like Hell away" as the ballad about them goes, in fleeing from the likes of Tom Barry, Dan Breen and the IRA Flying Columns who put them on the run in Ireland's War of Independence." The highly debated St. Patrick's Day themed Nike sneaks retail at $90.
About RoadFish.com
RoadFish.com is an online men's lifestyle and finance magazine targeted toward men in their 30's and 40's that have already attained a moderate level of success in life, and are striving toward more. It goes over current events of interest to this group, such things as exciting adventures, making money, consumer interests, sports, and dating tips, as well as ways to make more and save more money. It is a publication owned by Purpose Inc.
###