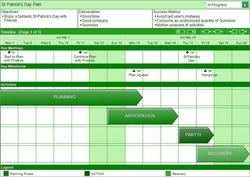 It's the only all-green project plan I've seen in over 15 years of project planning.
New York, NY (PRWEB) March 8, 2011
You've got green beer, green corned beef and cabbage, and your shamrock for St. Patrick's Day. But what color is your project plan wearing?
Using customization tools built into Swiftlight project management software, Torridon Solutions today announced the release of an all-green projectplan template – along with a discount to save some green.
"The text is green in the project template," said Peter "O'" McWhinnie, chief executive officer of Torridon, the company that makes Swiftlight. "The icons are green, the activities are green, the lines are green. It's the only all-green project plan I've seen in over 15 years of project planning."
"It started off as a little bit of fun for St. Patrick's Day, but it's a great illustration of how Swiftlight's customization features allow you to create outputs that are aligned with branding requirements, something that many of our customers in the corporate world and in management consulting really appreciate. And it also reminded us how easy and fast Swiftlight is. It took just 30 minutes to conceive and create the green template and the example project plan."
To get the green template and a discount on Swiftlight, "just persuade us that you are Irish or email us a picture (or anything) with something green before St. Patrick's Day, 17 Mar. 2011," said McWhinnie, "and you'll get Swiftlight for $225 (or £149) – a 25 percent discount on the usual price of $299. Just email us at sales(at)torridonsolutions(dot)com."
To find out more and get the all green template:
http://www.swiftlightsoftware.com/St-Patricks-Day-Green-Plan.html
About Swiftlight
Swiftlight is a project management software application that saves time, creates clarity and gets results for its users. Easier, simpler and with clearer graphics than MS Project, and faster and more structured than using Excel and PowerPoint for projects plans, it offers a planning structure, high quality visuals and outstanding ease of use. Created to meet the needs of a broad range of business managers, executives and consultants, rather than just project management experts, Swiftlight is particularly well-suited for project planning and progress reporting for "smaller scale" or "less complex" projects, for creating timelines and other outputs for project proposals, and for use as a high level planning and reporting tool alongside other software on more complex projects.
For more information, including a detailed product description and tutorial videos please visit the Swiftlight project management software website. Swiftlight is designed for desktop and laptop computers configured with Microsoft Windows 7, Vista or XP. A single user license can be purchased for $299. A free 30 day trial of Swiftlight is available here.
About Torridon
Founded in 2005 and privately held, operating from London as Torridon Solutions Ltd. and from New York as Torridon Solutions Inc., the mission of Torridon Solutions is to make life easier for managers and the companies they work for by designing, creating and distributing practical and innovative software for the world of planning, project management and management communication. Torridon Solutions has customers in 17 countries, predominantly in North America and Europe.
# # #