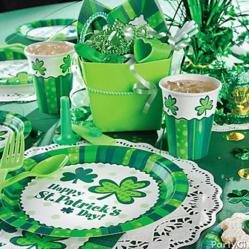 Start by making favors do double duty, using them to decorate your table.
Rockaway, NJ (PRWEB) February 25, 2012
St. Patrick's Day is around the corner, and Party City's Celebration Experts are sharing savvy ideas to maximize the holiday's color-of-honor and turn any green gathering into a lucky affair. According to the National Retail Federation, 122 million Americans celebrated St. Patrick's Day last year with eight out of 10 people dressing in green. The NRF reports that other popular St. Patrick's Day activities include cooking a special dinner (41 million Americans), visiting a bar or restaurant (38 million), decorating a home or office (31 million) and attending a private party (23 million). No matter how people celebrate the holiday, Party City is sharing two fun ways people can enjoy the holiday with friends and family.
DRESS IN GREEN GEAR FOR THE PUB, PARTY OR PARADE
Mix and match St. Patrick's Day costume accessories and wearables perfect for attending a party, visiting a bar or watching a parade.
Costume Accessory Favorites: Keep the tradition of wearing green going strong with this year's top green costume accessories, which include outrageous headgear -- such as top hats, wigs and headbands -- beaded necklaces, oversized sunglasses, and giant bowties and suspenders.
Bold Fashion Statements: For the adventurous St. Patrick's Day reveler, make a bold fashion statement and stand out in a sea of green with outrageous St. Patrick's Day costumes, such as Adult Leprechaun outfits and all green Morphsuits.
Perfect Amount of Green to Say Cheese: Capture friends and family's Irish charm and stage "golden" photo ops with everyone outfitted in their best green costume accessories and costumes.
THROW A SHAMROCKIN' ST. PATRICK'S DAY PARTY
More and more people are celebrating St. Patrick's Day with festive and fun parties (23 million in 2011 vs 19 million in 2009 according to the NRF), and the below tips are perfect for throwing a memorable event.
Colors of the Rainbow: Choose an abundance of green party decor when decorating for a St. Patrick's Day part y, but also create a striking contrast against the typical all-green palette with splashes of bright and colorful rainbow decorations. As an unexpected touch, hang rainbow paper fans or rainbow fluffy decorations behind a green tablescape, and stripe a green tablecloth with rainbow crepe streamers layered over white ribbon.
Emerald Confections: Satisfy everyone's sweet tooth this St. Patrick's Day with an all-green dessert bar. Create a visually stunning display with an assortment of glass candy jars wrapped in green and white ribbon and filled with various shades of green candy. In addition to the eye-catching candy, display on crisp white platters green cupcakes topped with shamrock picks and shamrock-shaped sugar cookies iced in green frosting.
Shamrock Spirits: Alongside the traditional green drink of choice, serve a variety of green-colored specialty cocktails, such as "Irish Dreams," "Leprechaun Kisses," and "Lucky-tinis," to give any St. Patrick's Day party a sophisticated edge. PartyCity.com provides a variety of St. Patrick's Day drink recipes and corresponding photos to help plan the perfect cocktail.
With thousands of party supplies and a huge assortment of festive St. Patrick's Day gear -- from costume accessories and tableware to decorations and serveware -- Party City can help price-savvy shoppers celebrate St. Patrick's Day in style. Party City is a one - stop shop with more than 700 store locations and an incredible online selection at PartyCity.com. Plus, the "Party Ideas" Center on PartyCity.com makes it easy to throw a St. Patrick's Day party with detailed photo galleries showing St. Patrick's Day party ideas and St. Patrick's Day cocktail ideas.
For clever tips and more information on great party ideas and party supplies, visit or a local Party City store.
ABOUT PARTY CITY
Party City Holdings Inc. designs, manufactures, contracts for manufacture and distributes party goods, including paper and plastic tableware, metallic balloons, accessories, novelties, gifts and stationery. Party City Holdings Inc. also operates retail party goods and social expressions supply stores in the North America under the names Party City, Halloween City, Factory Card & Party Outlet and Party Packagers. Party City is North America's largest party goods chain and the premier retailer of Halloween costumes, theme party supplies, birthday decorations and other specialty party supplies.
# # #