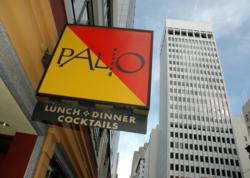 La Festa di San Giuseppe is always a fun evening and everyone should wear comfortable clothes to make space to try everything
San Francisco, CA (PRWEB) March 10, 2012
Palio d'Asti (http://www.paliodasti.com) Italian restaurant in downtown San Francisco offers up an "Italian Father's Day" extravaganza of family style platters that will include a nod to St. Patrick's Day traditions as well. The popular annual event, also known as St. Joseph's Feast, gets its culinary inspiration from hearty "nonna" (grandmother) worthy dishes. But given the proximity of the two holidays, Executive Chef Dan Scherotter is going one step further to add a little Irish- Italia fusion to the menu mix this year.
The top San Francisco Italian restaurant will offer eight starters, including cold antipasti and hot Fritto Mixto choices, 3 different risotto, and three second courses that are authentic enough to please every family member. A platter of Beer-Braised Corned Beef and Cabbage will ensure everyone gets a wee bit of old country for their culinary pleasure.
The cost for adults is $65, children under 13 pay their age, and everyone finishes off the evening sharing a grand Sicilian Dessert Sampler. Located midway between Union Square and the Financial District, seatings are available anytime between 5:00 and 9 pm. Reservations are accepted by phone or can be made online at the restaurant's website.
"La Festa di San Giuseppe is always a fun evening and everyone should wear comfortable clothes to make space to try everything," suggested Scherotter, himself the father of two young boys. "Dads, Grand Dads, and future Dads can also enjoy a wide range of bar cocktails, our Wine Spectator award winning wine list, several beers on tap including Peroni, plus a fine cognac, shot of Irish Whiskey or perhaps a Baily's Irish Cream as a digestive after dinner," chimed in co-owner Martino Di Grande who personally greets all guests and manages both the restaurant and its full bar program.
Saturday's dinner is truly a shared feast whether you're with family or friends. The meal begins with Antipasti Starters of House Pickled Vegetables, Venetian Style Crab Stuffed Devilled Eggs, Polenta Home Fries, Garbanzo Bean and Salami Salad with Mozzarella and Fried Baby Artichokes with Meyer Lemon Aioli, among others. Moving onto comforting Risotti, try one or all three; Braised Lamb, Peas, Pecorino Cheese and Saffron; Tuscan Style Spicy Seafood and Red Wine; and Smoked Wild Mushrooms.
Still hungry? Secondi e Contorni feature Gamberi Fra Diavolo (Spicy Sautéed White Prawns), Pollo Arrosto (Rosemary and Garlic Crusted Lemon Chicken, Slow Roasted Pork Loin with Mustard Sauce, and Brasato Irlandese (corned beef & cabbage), all accompanied by Grilled Asparagus and Baked Potato Gratin with Fontina Cheese. The Grand Sicilian Sampler that ends the meal is sure to please with a mixed selection of traditional small pastries.
About Palio d'Asti
Celebrating 21 years of authentic, seasonably changing cuisine with an emphasis on local, organic and sustainable ingredients, Palio D'Asti features classic and contemporary regional Italian cuisine combined with exceptional service at its ala carte lunch and prix fixe dinner. Palio d'Asti also hosts the best San Francisco happy hour, which features a $1 artisan pizza with the purchase of two adult beverages.
With several private rooms available for group dining, Palio d'Asti is also the ideal San Francisco party venue or corporate meeting location. Breakfast and all day meetings can also be accommodated.
Open Monday-Friday for lunch, Monday-Saturday for dinner, Palio d'Asti is located at 640 Sacramento Street between Kearny and Montgomery in San Francisco. For reservations or more information call (415) 658-9295. or to make reservations online visit http://www.paliodasti.com