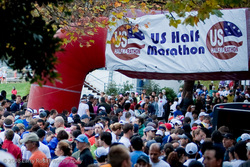 We are ecstatic and humbled
San Francisco (PRWEB) September 16, 2009
St. Jude Children's Research Hospitals' fitness-based fundraising effort, "St. Jude Heroes," will raise an estimated $200,000 this November, thanks to skyrocketing enrollment in the program by runners registering in this year's US Half Marathon in San Francisco.
"We are ecstatic and humbled," said Christine Larkin, mother of Paul Larkin, a St. Jude patient from Windsor, California. "In a time when everyone is worried about finances, we're seeing four times as many US Half runners extend themselves to help our kids. Then on top of it, they go out and gruel through 13.1 miles of San Francisco hills and the Golden Gate Bridge, which is somehow uphill, with the wind in your face, in both directions. It's an amazing gesture and an incredible testament to the human spirit."
The St. Jude Heroes team is a nationwide group of everyday athletes with a common goal of finding cures and saving children. Each Hero builds a fundraising team comprised of friends, family or coworkers, or simply raises funds as an individual. Heroes call on donors to support their quest to conquer a fitness challenge on behalf of those who can't - the patients of St. Jude.
In exchange for their generosity and hard work, the program offers its Heroes specialized training resources, online fundraising support, pre-race pasta dinners, a race day hospitality area and incentive prizes such as hotel nights and airfare.
The US Half Marathon, now in its seventh year, has supported St. Jude as an official partner since 2007, recruiting 67 Heroes for the program's inaugural year. This year the program has already surpassed 80 registrants at press time, and is on pace to exceed 250 runners by race day.
In 2008, the St. Jude Heroes program as a whole amassed more than 3,800 Heroes, raising $2.47 million for the children of St. Jude. At that level -- each Hero raising more than $630 - US Half Marathon registrants are on track to raise roughly $205,000 through the 2009 race.
"This is everything we envisioned when we partnered with St. Jude," said Ryan Dawkins, race director and president of Project Sport, LLC, producer of the US Half Marathon. "San Francisco is consistently named the nation's top running city. We run in the best weather imaginable. Runners enjoy some of the City's greatest landmarks and most idyllic views. This is a paradise run that we knew could do great things for people, and now it is."
About St. Jude Children's Research Hospital:
St. Jude Children's Research Hospital is internationally recognized for its pioneering work in finding cures and saving children with cancer and other catastrophic diseases. Founded by late entertainer Danny Thomas and based in Memphis, Tenn., St. Jude freely shares its discoveries with scientific and medical communities around the world. No family ever pays for treatments not covered by insurance, and families without insurance are never asked to pay. St. Jude is financially supported by ALSAC, its fundraising organization.
About the US Half Marathon:
The 2009 US Half Marathon will be run on Saturday, November 1. The race begins on San Francisco's waterfront at Aquatic Park on historic Muni Pier, with sweeping views of Alcatraz and the Golden Gate Bridge. The course travels through the Marina, Crissy Field, the Presidio and across the Golden Gate Bridge, exposing breathtaking sights of the San Francisco cityscape. Runners then return along the Golden Gate Promenade, through Fort Mason, to a grand musical finish back at Aquatic Park.
About Project Sport, LLC:
Project Sport, LLC, is a San Francisco-based sports marketing company whose mission is to provide competitive and recreational fitness events for the enjoyment of participants of all ages and skill levels. Currently, projectsport produces the San Rafael Twilight Criterium and the San Francisco Twilight Criterium -- two of Northern California's most attended cycling races - as well as San Francisco's US Half Marathon and the Copper Mountain Half Marathon in Summit County, Colorado. In addition, Project Sport owns and operates Areté Racing, now competing as the American Lung Association of California Cycling Team.
# # #